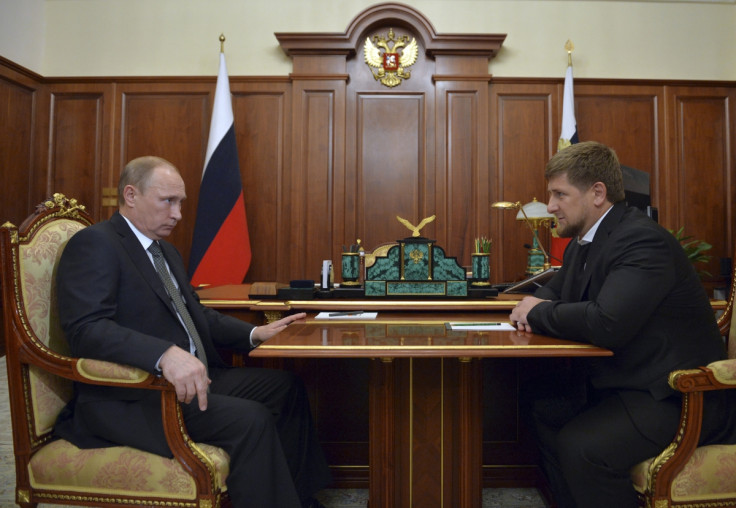 Chechnya's president Ramzan Kadyrov has reportedly been reassured by the Kremlin that he will remain as leader of the southern Russian republic, only weeks after announcing he would step down. His term expires on April 5 and so far Russian president Vladimir Putin has not publicly commented on whether he would be reappointed.
When Kadyrov vowed to quit, it sparked much speculation given that he needs Putin's blessing to win in September's regional election and a lack of an endorsement could spell the end of the Chechen strongman's hold on power. However amid reports that Putin had refused to see Kadyrov for some time, Kremlin sources told the Moscow Times that Kadyrov has been reassured that he would keep his seat.
"There are no doubts that Kadyrov will be reappointed," one Kremlin source told the paper with another adding: "Kadyrov never intended to go, and certainly would know if a real plan to replace him existed." Analysts say that replacing Kadyrov would be too problematic for the Kremlin, as he keeps control of the region, which is a hotbed of Islamist tension.
A damning report by the opposition figure Ilya Yashin portrayed Kadyrov as a threat to Russian national security and someone responsible for "countless violations of freedoms and human rights in his republic".
Maxim Shevchenko, editor of the Kavpolit.ru online news outlet, told the Moscow Times: "Kadyrov is a symbol of pacification that followed the Chechen War. Ending this war is Putin's most important accomplishment. If he dismisses Kadyrov, he disavows his own success."
Igor Kalyapin from the Committee for Prevention of Torture said: "If he's replaced, the system would start crumbling. Kadyrov, unfortunately, can't be replaced now. The system needs to be rebuilt first, which would take two or three years at least — that is if someone even wants to do it, which does not look to be the case," he said.
Kadyrov stirred controversy when he posted an Instagram image depicting opposition leader Mikhail Kasyanov in the crosshairs of a rifle, which was later ruled not to have broken any laws. Earlier in March, some activists and journalists were beaten up, reportedly by Chechens under his control, in the republic of Ingushetia.