A trade ban on synthetic lace lingerie has been contested by female protesters in Russia.
The ban will outlaw any underwear containing less than 6% cotton from being imported, made, or sold in Russia, Belarus and Kazakhstan.
A law affecting the Eurasian Union, the trade bloc of the three countries, means women's underwear may be removed from shop shelves on July 1.
The ban is aimed at protecting customers from cheap materials that could have a negative health impact. However, the bureaucratic wording means that underwear made of non-natural material that does not meet a 6% absorption threshold will be prohibited.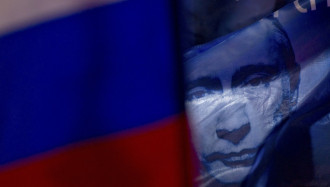 At the weekend, 30 women in Kazakhstan were arrested after protesting in the street with lace underwear on their heads. Individuals were thrown into police vans as they shouted "freedom for panties".
The ban was first outlined in 2010 by the Eurasian Economic Commission, which regulates the customs union.
Criticism has spread quickly and photographs comparing lace styles to Soviet-era cotton underwear are popular on social media.
According to experts, an array of clothing outlets in Russia will have to bin 90% of their stock if the law is not amended before the summer.
The Russia Textile Businesses Union has said over $4 billion worth of underwear is sold annually in Russia. According to the union, around 80% of the products are made abroad and shipped into the country.
Alisa Sapardiyeva, the manager of a lingerie store in Moscow, told Russia Today: "As a rule, lacy underwear is literally snatched off the shelves. If you take that away again, the buyer is going to be the one who suffers the most."
Critics have dismissed the ban as another attempt to implement misguided controls and regulations in post-Soviet countries.
Trifon Gadzhikasimov, 22, said: "I think (the girls)... will still have the opportunity to wear it (synthetic lace underwear) whether you can buy it in Russia or not. I think this is just another silly law that shows the ineffectiveness of our government."
The Eurasion Economic Commission is expected to issue a statement on the issue and it is likely the lace-ban will be overturned by Russia's trade ministry.
Meanwhile, discontent has plagued Russia and Kazakhstan over currency devaluations. Prior to the protest in Kazakhstan, a larger demonstration in Almaty had taken place against a 19% devaluation of the Tenge, the local currency, against the dollar.