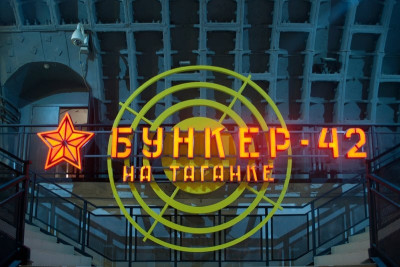 While thousands are expected to flock to the French mountain of Pic de Bugarach on 21 December to seek refuge from aliens, others will be hiding out in a different spot in preparation for the alleged Mayan apocalypse.
Bunker 42 in Moscow, a former military base 65 metres below ground, is normally used as a Cold War museum and exhibition space.
However, with the Mayan long count calendar fast running out, tomorrow night the bunker will be used as a refuge from the apocalypse - for £600 a head.
The event, entitled Chance to Survive 21 December, will begin at midnight tonight (Thursday) and organisers say there has been strong interest.
They said: "The only chance to survive December 21, 2012 is to descend into an underground bunker in the centre of Moscow.
"The deadline for registration is today, at 19.00. Interested people can still succeed."
Those who get in will see emergency command posts, secret tunnels, weapons and other Soviet paraphernalia.
Ticket-selling website ponominalu.ru said: "This is a real opportunity to see the city from a different angle, and experience for yourself the spirit of the 20th century in all its historical and artistic diversity."
Guidelines state that no one can arrive with alcohol or be intoxicated, they must not bring their own food, sharp objects, explosives, poisons, flammable liquids or solids, or radioactive materials.
Pregnant women, children, the disabled and sick people will not be able to attend because of health and welfare concerns.
Construction of Bunker 42 began in 1951. It has previously housed a karaoke club, a banquet hall, a theatre with DVD projection equipment and Stalin's meeting room, so if the world does end, ticket holders will not be short of entertainment.
Scientists have ridiculed the theory that the world will end tomorrow. Nasa said there is no threat to the world and Mayan experts have said the end of the long count calendar simply means a new one would have started on 22 December.
Mayan 2012 Prophecy: How To Tell Your Children the World is Going to End