America must simultaneously hold Russia to account while opening a dialogue with the nation, said former ExxonMobile CEO Rex Tillerson – as he gave testimony to the Senate during his confirmation hearing.
Tillerson is being considered for US Secretary of State in the Trump administration and appeared before the Senate Foreign Relations Committee on 11 January.
"Our Nato allies are right to be alarmed at a resurgent Russia," Tillerson said, "[And while] words alone do not sweep away an uneven and, at times, contentious history between our two nations [...] we need an open and frank dialogue with Russia regarding its ambitions, so that we know how to chart our own course."
Tillerson took a stronger stance on Russia than President-elect Donald Trump has seemingly appeared to. Trump's transition team has said it is "premature" to say whether Russia will be a defence priority for the new administration and Trump has indicated he will attempt to befriend Putin.
When asked about how he would have responded to Russia's annexation of Crimea in 2014, he recommended: "that Ukraine take all its military assets available and put them on that eastern border." This force would have been backed by American intelligence, he said, "What Russian leadership would have understood was a powerful response."
"[America must] be clear-eyed about our relationship with Russia. Russia today poses a danger, but it is not unpredictable in advancing its own interests," Tillerson said during his opening address. "Russia must know that we will be accountable to our commitments and those of our allies, and that Russia must be held to account for its actions."
Early this month Russia was sanctioned for conducting a propaganda and hacking operation against the US. But when asked by Florida Republican Senator Marco Rubio whether he would rollback recent sanctions imposed on Russia by President Barack Obama, Tillerson said he "would support" Trump and needed to examine the issue more. "Dialogue is critical so that these things don't spin out of control," he said.
In 2014 Obama sanctioned Russia for its annexation of Crimea. That year Tillerson said he opposes such sanctions as imprecise and ineffective. Sanctions do not work "if they convey a weak response" Tillerson said during his hearing. Over the summer Trump said he would "would be looking at" lifting the sanctions on Moscow.
Russia's Foreign Minister Sergey Lavrov responded quickly to Tillerson's nomination in December 2016. "We expect that this pragmatism will be a good foundation for building mutually beneficial cooperation," he said on 13 December.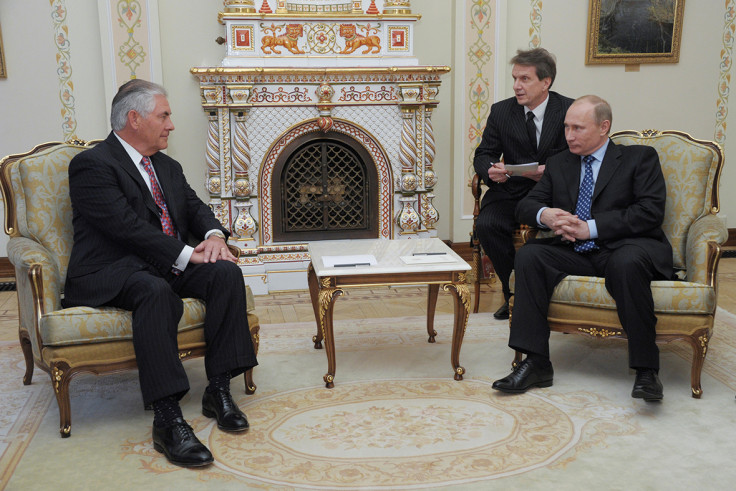 Tillerson brokered a $500bn oil exploration deal with Vladimir Putin in 2012 that would see ExxonMobil work with the Russian government oil company Rosneft. The deal got him the Kremlin's Order of Friendship in 2013.
Arizona Republican Senator John McCain expressed reservations about Tillerson's nomination in an interview on 11 December. "It is a matter of concern to me that he has such close personal relationship with Vladimir Putin," MCain said.