A Russian television channel has used images of the victims of the Malaysia Airline flight MH17 crash as part of a report claiming that mass graves had been found in Ukraine.
Last week, the pro-Putin channel REN TV reported that dozens of civilians and separatist militants had been killed and their bodies buried in three mass graves in eastern Ukraine.
Days later, the broadcaster owned by Yuri Kovalchuk, a banker and a lifetime friend of president Vladimir Putin, ran a story saying that more bodies were found in the Nizhnya Krynka area, about 60 km east of Donetsk, after government troops withdrew.
The stories were illustrated on REN TV's website with two photos, one depicting men carrying a body bag and the other showing numerous bodies lined up on a country road, the BBC reported.
However it would appear that both pictures were cut outs of photos actually taken in July at the crash site of MH17, which is about 50km away from Nizhnya Krynka. The photos were later taken down.
298 people were killed as the Boeing 777 flying from Amsterdam to Kuala Lumpur was blown out of the sky above rebel-held territory on July 17.
Ukraine and Western countries have accused Russia of having supplied insurgents with a SA-11 BUK missile system, which, they say, shoot the plane down. The Kremlin denies any involvement.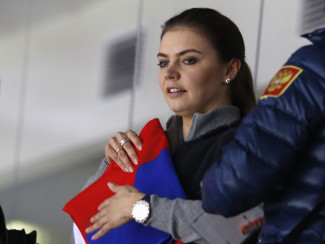 REN TV is part of the powerful National Media Group (NMG), which owns stakes in several pro-Kremlin newspapers as well as a 25% stake in the state-run Channel One television.
In September Alina Kabayeva, an Olympic gold gymnast who has long been rumoured to be Putin's lover, was surprisingly chosen to head the media giant.
Since the beginning of the conflict in Ukraine, Russian media have been waging a propaganda war accusing Kiev of atrocities and war crimes.
International observers with the Organization for Security and Co-operation in Europe (Osce) confirmed that bodies were found near Nizhnya Krynka, but in significantly lower numbers than reported by Russian media.
"The 'military police' of 'Donetsk People's Republic' ('DPR') told the SMM [Special Monitoring Mission] that three unmarked graves allegedly containing multiple bodies had been found," Osce said. "The SMM proceeded to the scene and saw in the coal mine two areas located fifty metres apart, each containing two human bodies."
The monitors also stopped short of laying blame on a belligerent side for the killings.
"Near the road on the edge of the village, the SMM observed a pile of earth resembling a grave which had a stick with a plaque, written in Russian and containing the names (or in one case – initials) of five individuals," Osce added.
"On top of the plaque there was another inscription saying: 'Died for Putin's lies'."
Human rights groups have accused both rebels and government troops of committing war crimes.
In the latest incident a shell was fired on a school in the rebel-held east Ukrainian city of Donetsk, killing four people - all adults.