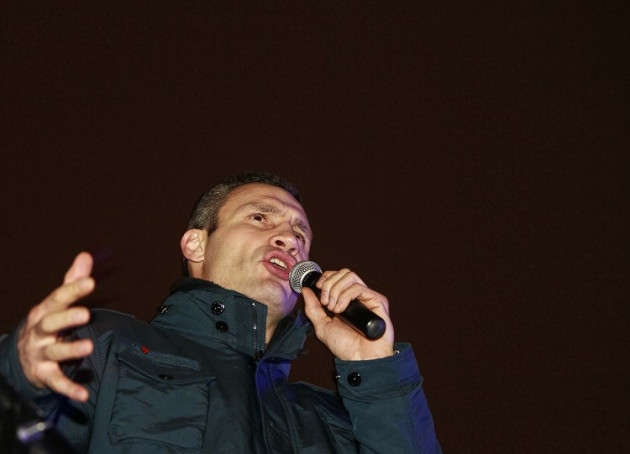 Critics of Ukraine's government including heavyweight boxing champion Vitali Klitschko joined a protest in Kiev's Independence Square against the spurning of a potentially historic trade deal between the European Union and Ukraine.
Klitschko accused the government of lying and said the official statements by President Viktor Yanukovich and Prime Minister Mykola Azarov's contradicted each other.
"Azarov's declaration contradicts his previous declarations and those of Yanukovich concerning European integration. They have messed us about - or, to tell the truth, they lied to heads of state, to the international community and to Ukrainians," Klitschko told Euronews.
The former Soviet state was due to sign a trade deal with the EU in Vilnius, Lithuania, but the signing has been aborted.
It followed parliament rejecting a law that would allow jailed opposition leader Yulia Tymoshenko to be released for medical treatment in Germany. That rejection jeopardised a breakthrough trade deal with the EU.
Tymoshenko, 52, is serving a seven-year prison sentence for abuse of office after she was convicted of brokering a gas deal with Russia which inflated gas prices.
All six draft laws to allow the former prime minister's release were rejected by the Verkhovna Rada (parliament) when Yanukovych's ruling Regions Party failed to support the bills.
"It is President Viktor Yanukovych who is personally blocking Ukraine's movement toward the European Union," opposition leader Arseniy Yatsenyuk told parliament in a speech after the vote failed.
Many are looking for explanations as to why the relationship between EU policymakers and Kiev has turned sour.
The country seems to be torn between its past, which is rooted in its ties to Russia and the former Soviet Union, and a possible future in the EU
Tensions have mounted between former Soviet Bloc countries considering EU membership and Russia which see such moves as a threat to its own security.
Analysts said that Russia had exerted pressure on Ukraine not to sign the EU pact.
Azarov, however, said that the government's decision to walk away from the deal was prompted by excessively harsh terms demanded by the International Monetary Fund (IMF) in a debt refinancing plan.
Officials from the IMF recently made a 10-day visit to Ukraine to assess its economic situation.
International creditors' were worrying about the country's $60bn (€44bn, £37.3bn) plus debt repayment schedule as well as its economic prospects for the next 18 months.
Swedish foreign minister Carl Bildt, a veteran of East-West diplomacy, tweeted: "Ukraine government suddenly bows deeply to the Kremlin. Politics of brutal pressure evidently works."