Russian embassy retaliates to 'brutal propaganda campaign' from UK intelligence
Russia uses WikiLeaks' CIA documents to speak out against appointment of anti-subversion minister.
The Russian embassy in London has lashed out at the UK Government and its security services, slamming the recent appointment of an "anti-subversion minister" as being part of a concerted propaganda campaign while referencing a recent WikiLeaks publication.
"Russia is accused of conducting subversive activity against Britain. We absolutely cannot accept that," read a statement released by the embassy yesterday (13 March). It came roughly 24 hours after UK intelligence agencies warned about an alleged Russian threat, including political interference.
On Sunday, UK Foreign Secretary Boris Johnson said during a media appearance that there is "plenty of evidence" that a Russian campaign is capable of influencing elections across the world.
"There is no doubt that they've been up to all sorts of dirty tricks," he said.
A day later, it emerged British Prime Minister Theresa May had appointed Cabinet officer Ben Gummer to the position of anti-subversion minister in order to lead "broad efforts within government to protect the integrity of UK democratic life".
Last year, the US intelligence community said Russia was likely linked to a hacking and misinformation campaign that attempted to influence the outcome of the US presidential election. It said stolen information was passed to WikiLeaks, a whistle-blowing website.
Echoing consistent Kremlin denials, the embassy asserted that "Britain has no evidence of Russia's interference in the UK domestic affairs" and called on the "British side to stop its anti-Russian campaign which undermines our bilateral relationship".
It continued: "We would like to note that already for a long time a brutal propaganda campaign has been underway to paint Russia as a country engaged in undermining Britain, including through hacking. Key to all this is that those allegations are not supported by any evidence."
The embassy reference cited the recent disclosure of alleged CIA documents, released by WikiLeaks on 7 March, as evidence the UK security services are unreliable. The website published documents outlining a number of surveillance and hacking tools.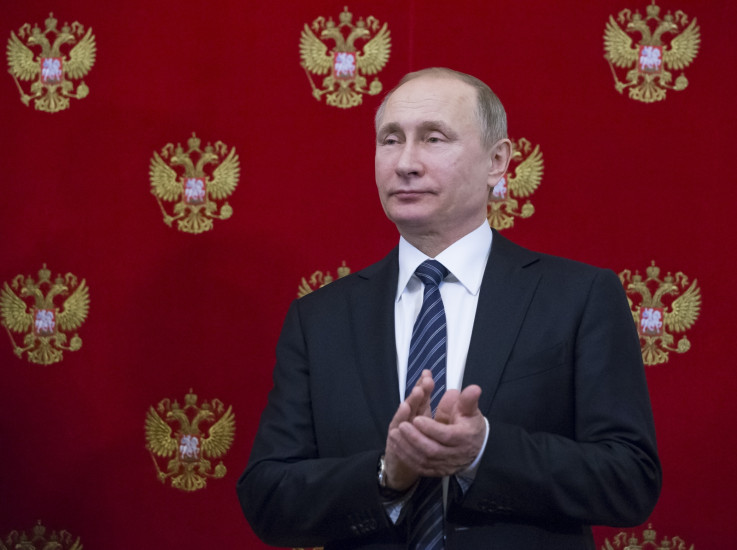 Russian President Vladimir Putin has denied involvement with the hacking campaign
Alexander Zemlianichenko/Pool/Reuters
It emerged that British intelligence helped develop some of the so-called cyberweapons.
"It is the British special services, who together with the CIA are active in development of technologies for total surveillance over the private life of citizens and society as a whole," the embassy statement said.
It also cited a thriving conspiracy theory that the CIA was involved in a false flag operation that planted evidence that made it look like Russia was behind the US hacking plot.
"Particularly broad possibilities [...] are associated with the CIA library of fingerprints/stolen identities of various foreign hackers which could be used to put blame on others," it said.
"That makes the murky business of hacking even murkier.
"The British special services, among other things, seem to be rendering CIA sisterly assistance in trying to divert attention from the intelligence debacle of the latest Wikileaks disclosure, as all too often, at Russia's expense."
Ciaran Martin, chief executive of the National Cyber Security Centre (NCSC), recently said his agency would be committing resources to UK political parties, offering advice and tips to stay safe from alleged Russian cybercrime and influence campaigns.
"This is not just about the network security of political parties' own systems," he warned. "Attacks against our democratic processes go beyond this and can include attacks on parliament, constituency offices, think tanks and pressure groups and individuals' email accounts."