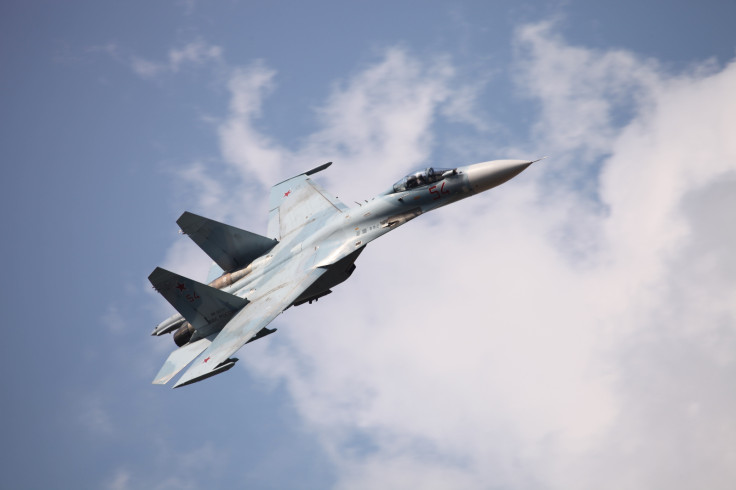 A Russian fighter jet reportedly rocketed to within 10 feet (3m) of a US Navy surveillance plane in an extremely risky manoeuvre that could have triggered a catastrophe over the Black Sea, according to reports on Thursday (8 September).
The Pentagon condemned the near confrontation, which took place on Wednesday (7 September), as an "unsafe close-range intercept" of the US Navy P-8A Poseidon plane by the Russian SU-27 jet.
"US Navy aircraft and ships routinely interact with Russian units in the area and most interactions are safe and professional," said Pentagon spokesman Captain Jeff Davis.
"However, we have deep concerns when there is an unsafe manoeuvre. These actions have the potential to unnecessarily escalate tensions between countries, and could result in a miscalculation or accident, which results in serious injury or death," Davis continued.
According to The Pentagon, the risky encounter lasted 19 minutes, although the Russian jet maintained a distance of 30 feet for most of that time before veering dangerously close. The worried US crew attempted to contact the Russian pilot, but received no answer in return, a source told ABC News.
Davis said that the US plane was conducting routine operations in international airspace at the time. Russian Defense Ministry Spokesman, Major General Igor Konashenkov, said in a statement that the US Navy aircraft did not have its transponders turned on — which the Navy denied — and that it approached Russia's southern border twice.
Konashenkov said Russian jets were deployed to intercept the incoming aircraft, and that "Russian pilots acted in strict compliance with international flight rules."
The intercept came as the most recent of a series of encounters this year that the Pentagon protested were unsafe. In April 2016, Russian SU-27 fighters performed "barrel rolls" over American KC-135 planes flying above the Baltic Sea. That same month, a pair of Russian fighters buzzed the destroyer USS Donald Cook as it was operating in the Baltic Sea.
Airspace tensions between the two nations are higher than ever, amid five days of military exercises by Russia involving 12,500 personnel and its Black Sea fleet based in Crimea, whose forceful annexation by Russia sparked international condemnation.
Earlier on Wednesday, following the close encounter, US Defence Secretary Ash Carter accused Russia in a speech at Oxford University of "unprofessional" behaviour, complaining that Russian interactions in international airspace are among a list of examples of how the nation is eroding global norms.
US Secretary of State John Kerry and Russian Foreign Minister Sergey Lavrov are supposed to meet later this week to discuss the Syrian conflict.