The Russian media have been poring over the consequences of the US Tomahawk strikes on Syria with one outlet saying the actions by Donald Trump have shifted international military tensions to levels that have not been seen for years.
The respected business newspaper Kommersant warned on Monday (10 April) that the air strikes in Syria risked dragging back the world to the George Bush-era "Axis of Evil" doctrine.
It notes how the cruise missile strikes in response to a chemical weapon attack in the north-western town of Khan Sheikhoun were followed soon after by the US Navy's Carl Vinson strike group moving closer to the Korean peninsula to counter the threat posed by Pyongyang, adding to an already bellicose global climate.
It said: "For the first time during the Russian operation in Syria, the United States has shown a determination to seize Moscow's diplomatic initiative in the Middle East.
"The 'Syrian debut' by Donald Trump is a signature style that the new US administration may follow in other conflicts. The decision to use force is taken quickly, without consultation with allies and Congress and the world is presented with a 'fait accompli'."
Senior researcher at Moscow's institute of oriental studies, Vladimir Sotnikov, told the newspaper that the missile strike was "a demonstration by Donald Trump, in front of the Chinese leader XI Jinping, whom he had earlier welcomed on his estate in Florida".
Meanwhile, the newspaper Vedomosti said that Russia's reaction was a lot milder than it could have been because Russia first wanted to know the White House's concrete plans in tackling Assad.
Political scientist Alexei Malashenko told the paper: "The strike was a one-time action to punish Assad, but this does not mean an outbreak of war against him. It is difficult to say how far Trump is willing to go, I have a feeling that he has no strategy."
There is much anticipation over what impact the visit to Moscow by the US Secretary of State Rex Tillerson will have, although on Monday (10 April) Kremlin spokesman Dmitry Peskov said there were no plans for him to meet with Vladimir Putin.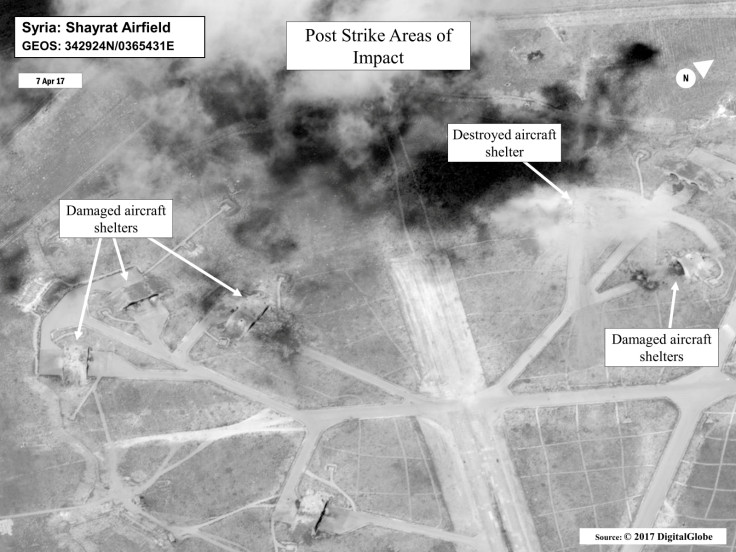 Moscow-based Russian military analyst, Pavel Felgenhauer, has said it would be unlikely to expect Russia to pull out of Syria any time soon, especially as since September 2015, it had invested enormous amounts of resources into Syria including 700,000 tonnes of equipment, munitions and weapons.
He told al Jazeera: "Russia wants to maintain Syria as a foothold of its influence in the Middle East, expand the Russian presence in Syria dramatically to a full naval base and the air base Latakia will be maintained and expanded.
"Russia wants to show the other important powers in the Middle East that relying on the United States is futile and that those who do lose, and those who rely on Russia, win."