The Kremlin has defended the decision by several Russian news networks not to report on the arrest of a nanny Monday (29 February) who was pictured holding the head of a child she had decapitated and threatening to blow herself up outside a Moscow metro station.
The horrifying news story has made headlines around the world, with the 38-year-old woman from Uzbekistan reportedly confessing to killing the four-year-old in her care then carrying the head onto the street in the north-west of the capital. Witnesses said she shouted Allahu Akbar, or 'God is great' in Arabic before being arrested.
However none of Russia's main state-funded media networks, including Channel One, Russia-1, NTV and Moscow's TVTs, made a single mention of the incident. Instead, most focussed their coverage on clashes between police and refugees in Macedonia, and the Oscar awards ceremony in LA, reported business news outlet RBK.
While the story spread rapidly on social media and was reported on various Kremlin-funded foreign language networks, there was silence on the television outlets, which comprise the main source of news for most Russians.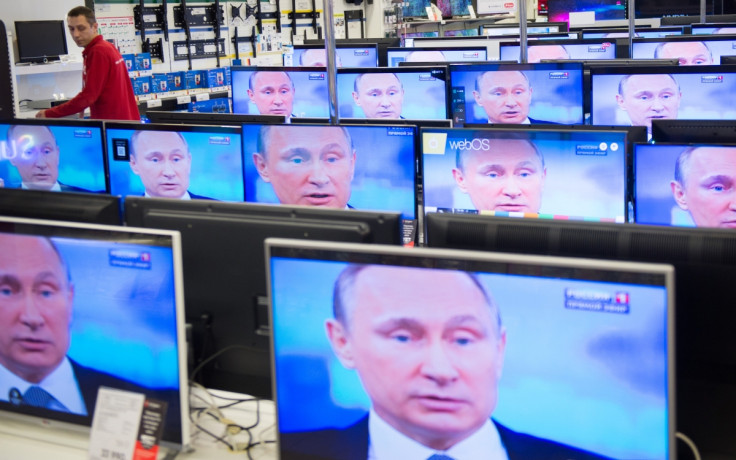 In a statement on Tuesday, 1 March, presidential spokesman Dmitry Peskov said the Kremlin supported the networks' decision, saying that the incident was "too horrible to show on TV".
"You know that the media around the world often give shots or show pictures of various tragic or horrific accidents. Such examples are many. In this way certain media express their position in society," said Peskov. "In any case, it is not something that should be covered in the media. And here I fully agree with the decision of these channels.
Russia's 20 million Muslims make up about 15 per cent of the population. Many travel from Muslim-majority Central Asian Republics to Moscow, where they find employment in a variety of low-wage jobs including construction.
Ethnic animosity has simmered for years in the Russian capital, with rioting locals attacking immigrants in 2013 after an Azerbaijani male killed a 25-year-old Russian man, in what he claimed was an act of self-defence.
RBK, citing two network sources, claims the channels received government orders not to broadcast the incident out of fear of stirring community tensions. Peskov denied the claim to RBK, and said "The channels themselves decided to not show crazy people. But we support them."
The nanny, named as Gyulchekhra Bobokulova, reportedly said she was haunted by 'voices' on the day of the murder and was driven mad after her husband left her to start another family while she was working in Moscow.
The head of Moscow's Muslim council, Ildar Alyautdinov, stressed that the attack had nothing to do with Islam. "This is an issue of an absolutely unhinged person, so it would be completely erroneous to associate some actions with Muslims and Islam, on the basis of clothing or some slogans," he told RIA Novosti.