An Egyptian report into the downing of Metrojet flight 9268, in which 224 Russian passengers were killed, has claimed there is no evidence the crash in the Sinai was caused by a bomb or any other illegal activity, despite evidence to the contrary and claims by Islamic State (Isis).
Conspiracy theories in Egypt have flourished over the downing of the Russian commercial liner, fuelled by widespread denial among Egyptian officials and the Middle Eastern nation's heavily censored press.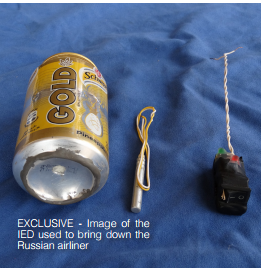 The Egyptian civil aviation ministry said its initial report into the crash had so far found no evidence of a criminal act, Reuters reported. "The technical investigative committee has so far not found anything indicating any illegal intervention or terrorist action," a statement from the ministry said.
Russia, the US and the UK have all said a terror plot most likely caused the crash. In the immediate aftermath of the disaster, Daesh (IS) claimed responsibility for the downing and the militant group's propaganda outlet Dabiq later published images of a Schweppes soft drink can with the caption "Image of the IED used to bring down the Russian airliner".
Following the restoration of military government in Egypt in 2013, authorities have enforced increasingly punitive censorship laws. Media outlets are bound to report official statements on issues of national security, rendering the majority of private news channels and newspapers as little more than propaganda machines.
Reporting on northern Sinai – where the Egyptian government is waging war on IS – is under particularly tight control.
Egypt's tourism sector, already on life support in the widespread unrest that followed the country's 2011 revolution, was dealt a serious body blow by the Metrojet crash. Sharm el-Sheikh, which had been viewed as an oasis of safety, was found to have serious security shortfalls at its international airport.
The chief Egyptian investigator into the crash, Ayman el-Muqadam, has said the investigation into the 31 October incident will continue.