Russian plane crash: Mystery 'noise' heard in last second of black box recording of downed flight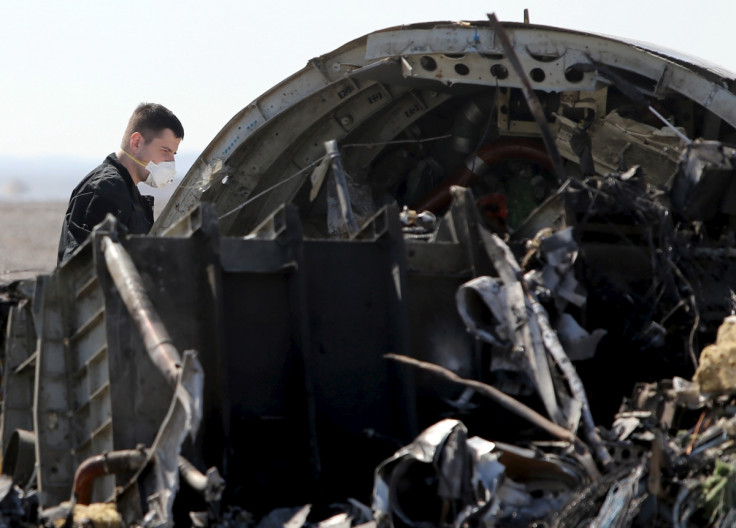 Egyptian officials investigating the Metrojet crash revealed that a noise was heard in the last second of the plane's black box recording. Ayman el Mokadem, the head of Egypt's Investigations Committee refused to say whether this proved an in-flight explosion caused the crash which killed 224 people on the A321 plane.
"A spectral analysis will be carried out by specialised labs in order to identify the nature of this noise," he said. The Egyptian airplane crash committee says it is considering all possible scenarios for the cause of the downed plane. They are still in the information gathering phase, according to Sky News.
Egyptian Foreign Minister Sameh Shoukry accused countries of failing to share intelligence regarding the crash. The British government and anonymous US officials have both reported that there was intelligence pointing to the strong possibility that the plane crash was caused by a bomb.
Sameh Shourky said in a press conference that Egypt was not briefed, but "expected that the information available would be communicated to us instead of being broadcast in the media". He added: "Egypt is co-operating to reassure these countries that the [security] measures adopted in Egyptian airports conform to international standards."
Shourky's claims were refuted by the UK ambassador to Egypt, John Casson, who said he had personally been in close contact with the Egyptian government. "We've made all the information available and we explained to them the basis for our decision-making," he told the BBC.
Egyptian officials are checking video footage at Sharm el-Sheikh airport for any suspicious activity in the days before the crash to see if anyone managed to get past security officials or metal detectors.
"We are also trying to determine if there was any unusual activity among policemen or airport staff," an official told MailOnline.
British agents said they were due to interview Egyptian baggage handlers after intelligence pointed to an Islamic State mole smuggling a bomb into the hold of the doomed Russian jet.
Militants known as Sinai Province and linked to the Islamic State group (IS) say they were responsible for the plane crash, but have not said how they brought it down. The group have been operating in the Sinai Peninsula since 2011 and are believed to have 1,500 members.
© Copyright IBTimes 2023. All rights reserved.