Russian plane crash: Tail may have blown off Flight KGL9268 with reports of 'celebrating' by IS militants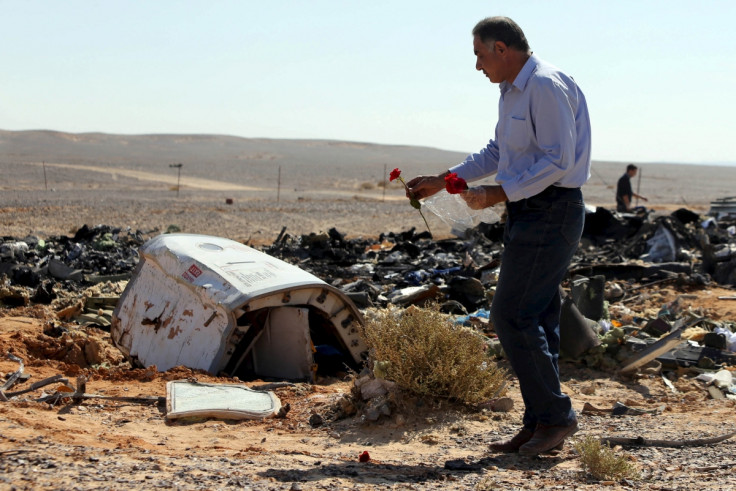 Data recordings from one of the black boxes travelling aboard the doomed Flight KGL9268 heading from Sharm el-Sheikh to St Petersburg suggests that the tail may have been violently blown off. According to Russian media, all of the planes key systems were working normally until the recording suddenly halts - which may suggest that the aircraft was suddenly torn apart in mid-air with the tail of the aircraft splitting from the fuselage.
This adds weight to the theory that the Metrojet flight, carrying 224 people which all died in the tragedy, was brought down by a bomb planted in the rear of the Airbus A321 jet. Yesterday (November 6) it was revealed that Islamic State (IS) leaders in Raqqa and persons in the Sinai Peninsula where heard "celebrating" the tragedy in intercepted communications made by the U.S.
The American network NBC, quoting unnamed US officials, said on Friday that communications had been intercepted between IS officials in Syria and people in Sinai about how the jet had been brought down.
The flight, which came down last Saturday, disappeared from radars just 23 minutes after taking off from the popular tourist hotspot on the Red Sea and was cruising at 31,000ft over Egypt's Sinai Peninsula. Hours after the tragedy, the Egyptian branch of Islamic State released a statement claiming it had brought down the plane in retaliation for Russia's military intervention in Syria.
Improvised bombs planted strategically in the rear of aircrafts, then detonated by timers, have been the cause of a number of terrorist atrocities in recent years. Including the the Boeing 747 which came down on Lockerbie, Scotland, in 1988, and an Air India Boeing 747 over the Atlantic in 1985.
Russian newspaper Kommersant said the black box cut off like: "a cardiogram showing the unexpected death of a person from a heart attack". And that experts will reassemble the remains into a life-size model to "discover possible points of damage caused by, for example, destruction of the fuselage as a result of metal fatigue or the explosion of a bomb in the hold."
The debris field, almost 20 square miles, shows that that the plane lost the tail from its pressurised fuselage at some point before impact with the ground. This would have cut power and data cables in the plane and therefore the black box recording as they do not have battery power to continue working.
"Everything is normal, absolutely normal during the flight, and suddenly nothing," a source told AFP, describing the contents of the cockpit voice recorder. "This suggests the event was sudden, and the suddenness immediate".
A U.S. official was quoted by NBC on Friday, saying that Islamic State had been heard boasting about taking down the jet. "They were clearly celebrating," NBC Nightly News quoted an unnamed U.S. official as saying.
© Copyright IBTimes 2023. All rights reserved.