Polish border guards have refused to allow Russian bikers Nochniye Volki (the "Night Wolves") to enter the country as part of their planned ride from Moscow to Berlin, where they had hoped to commemorate the 70th anniversary of the end of World War II on 9 May.
The bikers, who are closely linked with Russian President Vladimir Putin, denied the 6,000km ride was political, saying they simply wished to mark the end of a war in which over 20 million Russians died in the fight against fascism.
However many people in Poland view the Russian occupation during the war as negatively as they viewed the Germans and many joined a Facebook page which vowed not to allow the bikers entry into the country.
There had been warnings from Polish football hooligans that force would be used to prevent the bikers entering if necessary. However, not all Poles were against the Russians riding through, with many Polish bikers adopting a resolution in their support.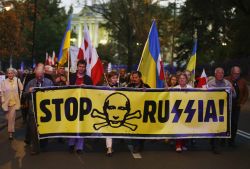 The bikers themselves have denied they were politically-motivated but have been linked with Russia's annexation of Crimea, Ukraine in 2014 and are blacklisted by the US and Canada.
A spokesman for Poland's pro-Ukraine Open Dialog Foundation, Tomasz Czuwara, was quoted by al Jazeera as saying: "This is not a normal bike club. They are tools in the hand of Vladimir Putin to make propaganda."
Last week, the bikers said they would ignore a Polish ban on their entry, but on arrival at the border with Belarus a group of 10 bikers were questioned in a hangar before being turned back, having been "thoroughly searched, to the last sock," according to biker Andrei Bobrovsky.
On Monday (27 April) the German foreign ministry also said it would deny entry to the bikers, but Night Wolves leader Alexander Zaldostanov, aka "The Surgeon", who is a personal friend of Putin, said the group still intended to travel to Berlin.
"Other people who won't say they are Night Wolves will take this route and accomplish this mission that we were planning to do for the 70th anniversary of the Great Victory," Zaldostanov told Russian TV channel LifeNews.
The Night Wolves say they will find other ways to reach Berlin. One member, Andrei Sloboda, said: "We had a great victory over evil. Now it's coming into the Russian world again. We need to show we are united into a single fist."