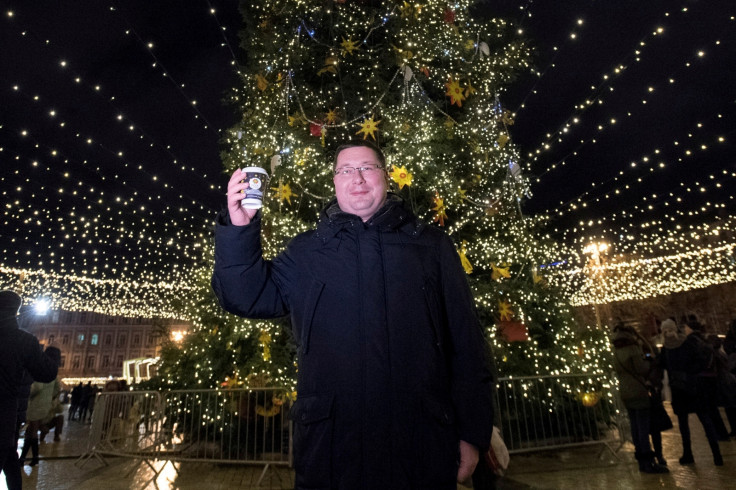 An interpreter for Ukraine's prime minister who was pictured next to Theresa May inside Downing Street has been arrested on suspicion of being a Russian spy.
Stanislav Yezhov, 39, was detained by Ukraine's SBU security service in Kiev on Wednesday (20 December), according to the Guardian and the BBC.
Ukraine's prime minister, Volodymyr Groysman, claimed that Yezhov had worked "for the enemy state [Russia] for a long time".
Yezhov is understood to have worked for Groysman as his interpreter and deputy head of protocol.
Oleksiy Petrov, head of counterintelligence in Ukraine, told Pryamiy TV: "The official had access to insider information about the Cabinet of Ministers.
"He was respected. And he responsibly and diligently worked for the Russian special services."
Photos were taken in July of Yezhov in Downing Street alongside Theresa May as she walked with Groysman.
May today (21 December) told a press conference in Poland: "I am aware of the reports in relation to a Ukrainian individual who attended Downing Street earlier in the summer.
"The matter is for the Ukrainian authorities."
Yezhov was also present for meetings between the Ukrainian government and the then-US vice-president Joe Biden in 2016.
A press release from the SBU did not name Yezhov as the suspect arrested but said it had detained a Ukrainian official secretly working for the Russian government.
It said the suspect was recruited by Russian special services during trips overseas but did not specify dates.
The SBU said the mole used special equipment to smuggle data to the Russian government.
It said: "The SBU operatives documented that the offender by the order of Russian curators collected data on the activities of governmental institutions by means of special equipment. He passed received data to curators through electronic communication channels."
Yezhov was seen being led away in handcuffs on Ukranian television on Wednesday evening.
He was in custody on Thursday while his home and workplace were searched, the SBU said. He is likely to face charges of state treason, it added.
Tensions between Kiev and Moscow remain high more than three years after Russia seized Crimea and backed pro-Russian separatists in eastern Ukraine.