Russian media have claimed that the foreign submarine that was spotted Sweden territorial waters prompting a massive military hunt is Dutch.
An unnamed source in the Russian defence ministry told Kremlin mouthpiece RT and the official Ria Novosti news agency that the unidentified underwater object belongs to the Royal Netherlands Navy.
"In order to ease tensions in the Baltic Sea and save the money of Swedish taxpayers, we would recommend searching for explanations from the Dutch Navy. Last week, a Dutch diesel-electric submarine Bruinvis was completing some practical tasks in the immediate vicinity of Stockholm," the source said.
Last week, Sweden launched a military hunt for the submarine, pledging to search "day and night" for what may be a damaged Russian vessel.
Swedish military, who said they were investigating "foreign underwater activity", were scouting in the Baltic Sea less than 30 miles from Stockholm after receiving trustworthy reports about an unidentified object in the area. More than 200 military personnel were involved in the search.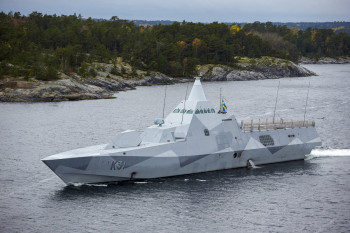 "It could be a submarine, or a smaller submarine," Rear Admiral Anders Grenstad told a news conference. "It could be divers using some form of moped-like underwater vehicle and it could be divers that don't have any business on our territory."
Earlier reports suggested that the object could be a damaged Russian submarine, rekindling memories of the final years of the Cold War when Sweden mobilised its troops to catch Soviet-era submarines along its coasts.
The Swedish daily Svenska Dagbladet said the massive search started after a radio transmission in Russian was intercepted on an emergency frequency. Other transmissions from a point in the archipelago and Kaliningrad, a Russian enclave sandwiched between Poland and Lithuania, were intercepted on Friday evening.
Grentstad hinted that the area is "of interest to a foreign power" without indicating any particular nation. "This does not belong to us. It is a foreign vessel and we have no indications that there would be any civilians involved in underwater activity," he said.
But the Russian defence ministry said there were emergency situations involving Russian warships in the Baltic Sea.
Since Moscow's annexation of Ukraine's Crimea peninsula on the Black Sea, countries in the Baltic Sea region have been on the alert of Russia's military and imperial ambitions.
Economic and diplomatic relations between the Netherlands and Russia were inevitably put under strain in July 2014 after the Malaysia Airlines Flight 17 disaster, which claimed 193 Dutch lives when it was shot down over pro-Russian eastern Ukraine by a surface-to-air missile.