A Russian city due to host a football match featuring Cameroon has staged a parade that included people wearing blackface make-up and carrying bananas alongside the African nation's flag on Monday (30 May).
Sochi, located on the black sea, is due to host Cameroon vs Germany in the Confederations Cup on 25 June. The tournament is a rehearsal of sorts for the 2018 World Cup.
The picture, which the Guardian reported was published through a state news agency, will exacerbate concerns about racism within Russian football ahead of next year's global showpiece.
The local government was seemingly surprised that images of blacked-up caucasians wearing Cameroon football shirts and carrying strings of bananas would cause offence.
"By no means did the carnival parade intend to insult anyone. On the contrary, it was organised with the friendliest of goals in mind: to create a positive atmosphere," it said in a statement on Tuesday.
"We look forward to warmly welcoming the Cameroon national team and its fans, as well as the representatives of all other countries, during the Fifa Confederations Cup."
The section of the parade including the 'Cameroonians' was devoted to the forthcoming Confederations Cup, which features the best performing teams from the world's various continental football tournaments.
In addition to the Cameroon vs Germany fixture, Sochi will host a match between New Zealand and Mexico on 21 June.
In reference to this, a man wearing a sombrero and a large stick-on moustache, and boys wearing native American headdresses also featured in the parade.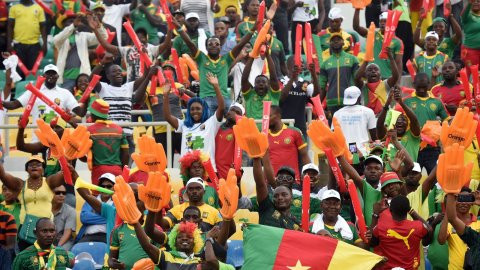 In 2015, the United Nations said Russian football authorities needed to do more to combat racism after a Ghanaian player was subjected to monkey chants during a club match.
A year earlier, a Russian Premier League coach said he would not be signing anymore black players because he "had six of the things".
At last summers European Championship, the head of the Kremlin backed Russian football supporters association was filmed giving a Nazi salute.
Sochi's government said it had intended the parade to be a "celebration of the different continents and a testimony of Russia's open attitude toward traditions from around the globe."