A Texas police officer in has allegedly been filmed tasering a black man wearing handcuffs who was not resisting arrest.
Fox News yesterday (16 May) received the footage, apparently recorded on 28 April 2016, from an unknown source in the mail.
The clip has emerged just two weeks after another Balch Springs officer was charged with murdering Jordan Edwards, a 15-year-old black boy shot in April.
The video, taken from an officer's bodycam, shows 39-year-old African American Marco Stephenson being stopped by three police as he walks along the pavement of a quiet street.
He follows police instructions, kneeling on the curb as they approach and handcuff him.
A BB gun he had been carrying is kicked away and he is stood up by police as they cut his rucksack from his shoulders.
Stephenson then spits a toothpick out of his mouth onto the ground. This appears to annoy one of the officers, who says: "Better watch it Marco."
Stephenson replies: "I spat a toothpick in the trash."
Then, without warning, and with Stephenson cooperating calmly, the unnamed officer presses a yellow taser into the his ribcage.
The taser can be heard going off as Stephenson falls to the floor, screaming in agony.
The officer then tasers him further as he writhes on the floor, saying: "Don't pull away! You understand? You understand?"
"Don't pull away. You get it? You get it? Because I ain't playing with you today. Do you understand?"
At no point did Stephenson appear to "pull away".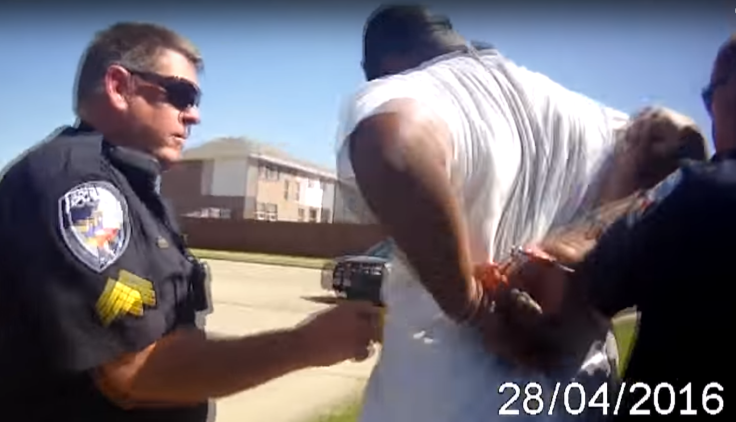 Balch Springs Police Chief Jonathan Haber said Professional Standards had reviewed the incident at the time but decided not to take any further action.
"We looked at it. At the end of the day, they did the right thing. They brought it to our attention. We decided together that this was an administrative issue, not a criminal issue," Haber told Fox.
"He's [Stephenson] been handled 37 times through Dallas County – 37 offences. He's been arrested or booked into the Dallas County Jail 17 times. He's been booked in through our facility 19 times and I think 33 separate offences."
Fellow Balch Springs Officer Roy Oliver is facing the murder charge after Edwards was shot in the head with an AR-15 rifle on 29 April.