Arakansas Walmart racist calls black woman a 'n****r' and tells Latino to 'leave America'
The bigot lost her temper while shopping at a Walmart store in Bentonville, Arkansas.
A Walmart shopper was filmed hurling racial slurs at fellow customers on Monday (22 May) in Bentonville, Arkansas.
The middle-aged white woman lost her temper with a person identifying as Eva Hicks on Facebook. Hicks filmed the ensuing scene and posted it online.
The pair had apparently got in to a dispute over space in the aisle after Hicks had tried to pass the unnamed woman to access medicine from the shelf.
"Go back to Mexico, go back, wherever you're from... you're in America," she tells Hicks while gesticulating with her hands.
Another customer then interjects to defend Hicks, accusing the woman of being "ignorant."
"A n****r's calling me ignorant?" the woman asks rhetorically.
The black woman, who is off screen, remarkably keeps her composure and responds: "Yes. Absolutely. All this 'go back to Mexico' and stuff. Absolutely. It's ignorant."
The woman then returns to her first target, saying "we don't want you here [America]", at which point the store manager, apparently just arriving on the scene, says: "Yes we do want you here."
The manager then patiently tries to calm the woman down but she stands her ground for a couple of minutes, standing behind her trolley – which contains a large multi-pack of toilet paper.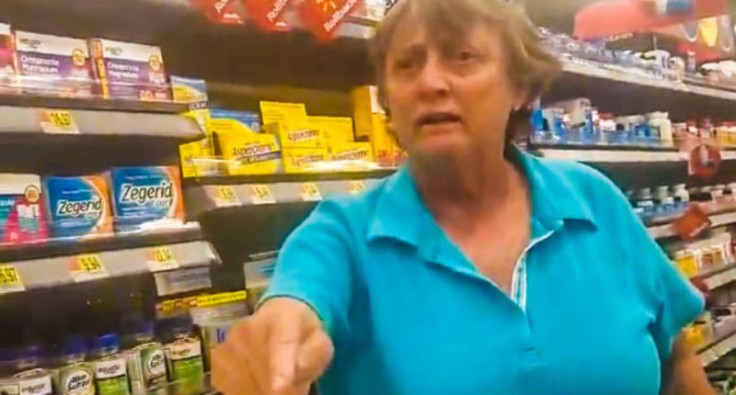 Footage of the incident has gone viral in part because Shaun King, a New York Daily News journalist, posted it to his Twitter account.
King asked Walmart if they would ban the woman from their stores nationwide. The supermarket chain replied that they were "looking into the matter" and agreed that "this [behaviour] cannot be tolerated".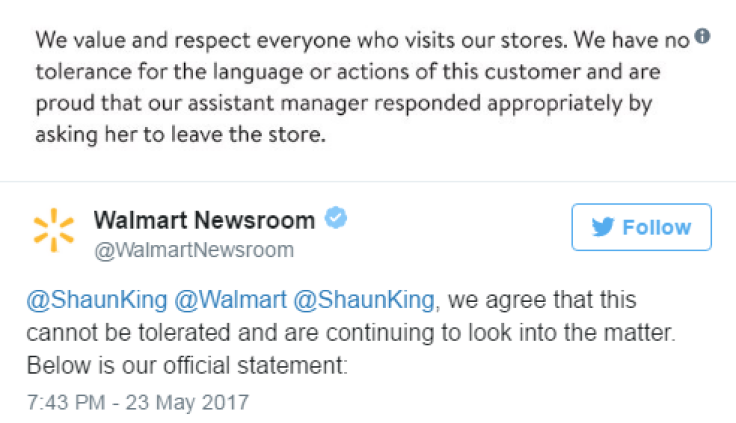 © Copyright IBTimes 2023. All rights reserved.