The Democratic Republic of Congo (DRC) has arrested Ladislas Ntaganzwa, a former Rwandan mayor accused of orchestrating the killing of tens of thousands of people during the 1994 genocide, Rwanda's prosecutor general said on Thursday.
Ntaganzwa, who had been on the run for 21 years after being indicted in 1996, is among the nine most-wanted fugitives after the 1994 Rwanda genocide, which killed between 800,000 and 1m ethnic Tutsis and moderate Hutus.
The mayor of the commune of Nyakizu in southern Rwanda had been on the run for 21 years from charges relating to the genocide, including direct and public incitement to commit genocide as well as extermination, murder and rape, Richard Muhumuza, Rwanda's prosecutor general said.
The tribunal's indictment, updated in 2012, accuses Ntaganzwa of personally ordering the massacre of more than 20,000 Tutsi civilians in one parish in April 1994.
Arrest at FDLR militia headquarters
He was arrested in Nyanzale in North Kivu province on Sunday (6 December). "The National Public Prosecution Authority is pleased to announce the recent arrest of Ladislas Ntaganzwa, one of the last fugitive suspects sought by the International Criminal Tribunal for Rwanda," Muhumuza said.
The former mayor was arrested during an operation against the headquarters of the Democratic Forces for the Liberation of Rwanda ((Forces démocratiques pour la libération du Rwanda, FDLR), a Congo-based Rwandan Hutu militia, according to DRC's army spokesman Leon Kasonga.
The FDLR has been one of the most abusive armed groups in eastern Congo over the past two decades. It was formed by Rwandan Hutus linked to the 1994 genocide who fled into Congo after overseeing the massacre of hundreds of thousands of Tutsis and moderate Hutus between April and July 1994.
It also includes former members of President Juvénal Habyarimana's army and Interahamwe militia.
Many fled Rwanda after they were routed by President Paul Kagame's troops following the genocide. They regrouped in DRC to plot a return to power in Kigali, forming an armed group that eventually became the FDLR, and have remained in eastern DRC ever since.
Former DRC President Laurent-Désiré Kabila formed an alliance with the FDLR to battle Kigali's influence in eastern DRC after 1998. But Kabila's son Joseph, the current DRC president, allowed Rwandan troops to enter Congo in 2009 and chase the FDLR.
The group's spokesman La Forge Fils Bazeye, however, told Reuters Ntaganzwa is not a member of the FDLR.
Rwanda to prosecute Ntaganzwa
The UN Mechanism for International Criminal Tribunals called on DRC's authorities to immediately transfer Ntaganzwa to Rwanda for trial, according to a statement released on Thursday (10 December).
DRC's army spokesman Kasonga said Ntaganzwa was being held in the eastern city of Goma and would soon be transferred to the capital Kinshasa before any decision was made about extradition.
A number of separate courts have so far trialled cases related to the 1994 slaughter.
The International Criminal Tribunal for Rwanda (ICTR), a separate tribunal backed by the United Nations based in Arusha, Tanzania, has so far convicted 61 people for involvement in the genocide, including leading military and government officials, while Rwanda's prosecutor general said that Rwanda was prepared to prosecute Ntaganzwa before a specialized international crimes chamber of its High Court.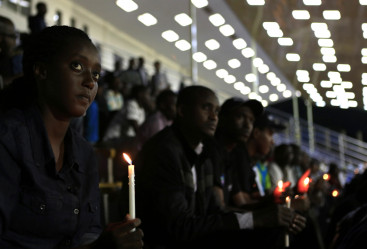 Rwanda's hunt for genocide perpetrators
More than 20 years after the genocide, Rwanda is still pursuing perpetrators on its soil and internationally. In June, Martin Kabalira, a Hutu priest accused of crimes against humanity was arrested in France.
The central office on crimes against humanity, genocides and war crimes arrested the 61-year old Hutu priest in Trappes, central France, with the mission to execute an international arrest warrant issued by Rwanda's prosecutor.
Courts accuse the man, who is said to be close to the government and the family of former Rwandan President Habyarimana, of having killed between 25 and 1,000 university students and their families by pointing them out to killers armed with machetes.
The priest, who retains this status thanks to his military chaplain position, is alleged to have let atrocities take place. Some also accused him of having carried out interrogations and to have controlled and used information to track down Tutsis.
The man managed to escape the country when the Tutsis took over, aided by friends within the church. After going through several African countries, he landed in France in 1997, where he applied for political asylum.