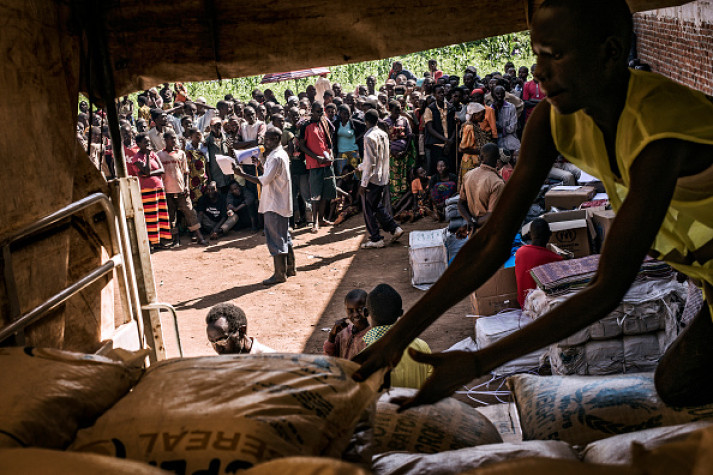 The Rwandan government has announced it would start relocating Burundian refugees ' to third countries' just days after the United States raised concerns over reports that Rwanda was involved in "destabilising activities" in neighbouring Burundi.
A leaked memo to the United Nations (UN) Security Council this month became the most compelling testimony yet that Rwanda may be 'meddling' in Burundi's affairs, accusing Rwanda of recruiting and training Burundian refugees with the goal of ousting Burundian President Pierre Nkurunziza. There are 75,000 Burundians living in Rwanda, and 25,000 in the capital, Kigali.
Up to 900 people are reported to have been killed since April after Nkurunziza announced a controversial decision to run for a third term, which he won in contested elections in July 2015. Scores of bodies are reportedly still being found in the streets, in tit-for-tat violence pitting pro-Nkurunziza forces against insurgents in a region where memories of Rwanda's 1994 genocide are still strong.
On Friday (12 February), the Government of Rwanda announced on its official website that it will "immediately begin working with partners in the international community to plan the orderly and safe relocation of Burundian refugees to third countries".
Foreign Minister Louise Mushikiwabo pointed out that Rwanda readily shoulders its obligations to protect and care for refugees. However, the statement read: "Experience in the Great Lakes is that the long-term presence of refugees so close to their country of origin carries considerable risks for all involved."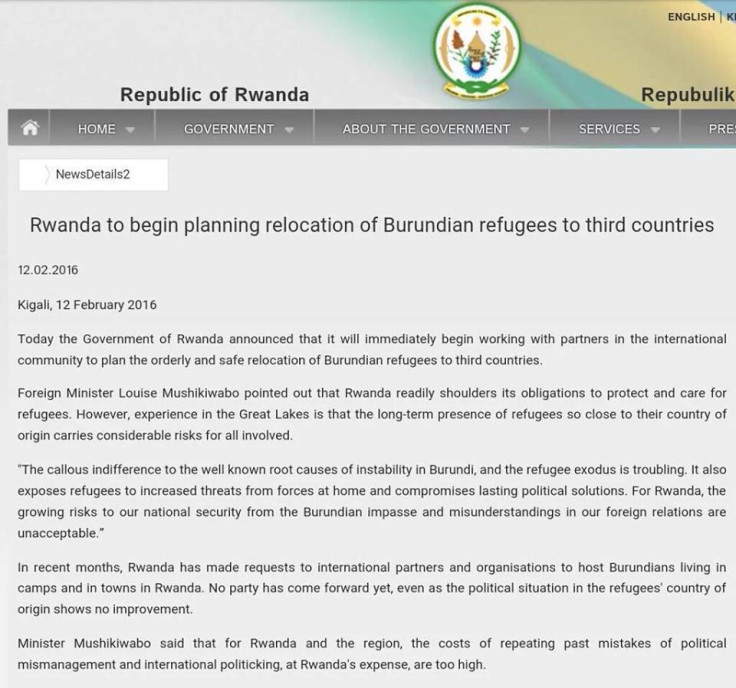 Mushikiwabo said: "The callous indifference to the well-known root causes of instability in Burundi, and the refugee exodus is troubling. It also exposes refugees to increased threats from forces at home and compromises lasting political solutions. For Rwanda, the growing risks to our national security from the Burundian impasse and misunderstandings in our foreign relations are unacceptable."
In recent months, the government claimed, Rwanda has made requests to international partners and organisations to host Burundians refugees living in camps and in towns in Rwanda. "No party has come forward yet, even as the political situation in the refugees' country of origin shows no improvement," the statement read.
Mushikiwabo said that for Rwanda and the region, the costs of repeating past mistakes of political mismanagement and international politicking, at Rwanda's expense, "are too high".
A reaction to US claims of involvement?
This comes just days after two top US diplomats cited reports from colleagues in the field that they said pointed to Rwandan involvement in the Burundi crisis, during a hearing in the US Senate Foreign Relations Committee.
Thomas Perriello, US envoy for the Great Lakes region of Africa, suggested that Burundian refugees, including children, were being recruited from camps in Rwanda on behalf of the Burundian opposition to participate in armed attacks against the Burundian government − claims already made by IBTimes UK, the United Nations and Refugees International.
In August, IBTimes UK was already reporting the recruitment of young Burundians in refugee camps in Rwanda, after meeting Justin Girukwigomba, a 24-year-old who was brainwashed by rebel leaders within the vicinity of a refugee camp near Gashora, in Rwanda's Bugesera District.
Burundi's Foreign Minister Alain Nyamitwe welcomed the statements, saying they were "better later than never because we've been telling the Obama administration about this for the last seven or eight months", according to Voice of America.
Rwanda's government has denied similar allegations in the past.