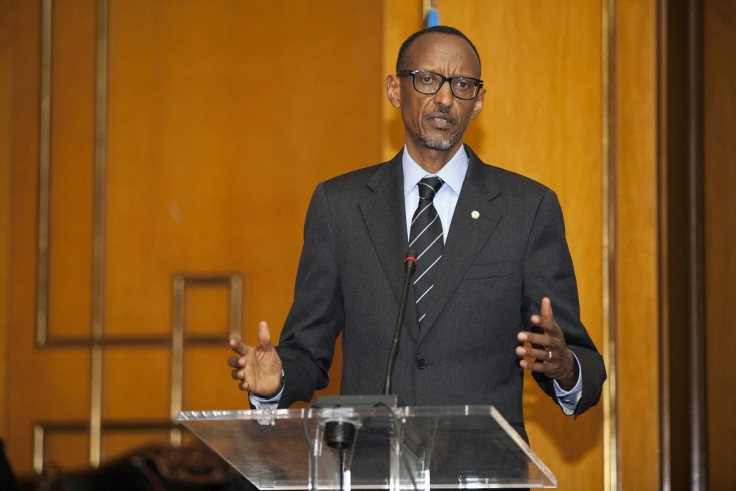 Rwandans have voted to allow incumbent President Paul Kagame to extend his term in office beyond his mandate, which is up in 2017. The referendum, which means Kagame could serve as the nation's president until 2034, has been subject to criticism from the international community as well as human rights organisations.
Citizens voted to change the country's constitution which would allow the 58-year-old to stand again after 2017 after the end of his second term. Effectively allowing him to stand for another seven-year term and two five-year terms after, meaning he could be in power until 2034.
He has held official office since 2000, but he took control of the nation six years previously in 1994 when his rebel forces marched on the capital Kigali removing Hutu extremists and forcing an end to the Rwandan genocide. Since then Kagame has turned the war-torn nation around with the help of millions in foreign aid from the UK and the US.
The Rwandan electoral commission said that 6.16 million Rwandans voted on 19 December – with a landslide 98% of voters in favour of the reforms. Although Kagame said that he has not made a decision on whether to stand again in 2017 it is expected he will.
The Rwandan Patriotic Front leader insisted a vote needed to go ahead because four million Rwandans had signed a petition encouraging the referendum. "What is happening is people's choice," he said, adding that Rwandans "have their future in their own hands. Ask people why they want me," according to the Guardian.
The US state department condemned the vote saying that Kagame should move aside to "foster a new generation of leaders in Rwanda". And earlier in December the EU High Representative for Foreign Affairs and Security Policy in Rwanda, Federica Mogherini, said: "The adoption of provisions that can apply only to one individual weakens the credibility of the constitutional reform process as it undermines the principle of democratic change of government."
The New York -based Human Rights Watch (HRW) has accused the Rwandan government of attacks on free speech, dissent and political opposition. A statement on the HRW website said: "In Rwanda, independent civil society organizations are weak, due to years of government intimidation, threats and administrative obstacles. Open expressions of dissent are rare."