A military collector discovered five gold bars worth more than £1m ($1.24m) hidden inside a restored tank purchased for £30,000, prompting theories it was plundered by Saddam Hussein's soldiers during the first Gulf War in a 'Three Kings'-type heist.
The bullion was buried inside the fuel tank of the T54 armoured vehicle that had previously belonged to Hussein's Iraqi army. It is believed that the bars may have been looted from Kuwait during the 1990 Iraqi invasion, according to The Sun.
The tank's owner Nick Mead and his mechanic Todd Chamberlain had wrenched open the fuel tank at their site in Northamptonshire fearing they might discover firearms. They even filmed the procedure in order to put themselves above suspicion should they find guns.
Instead, they were stunned to find five gold bars each weighing five kilos.
"We didn't know what to do. You can't exactly take five gold bullion bars down to Cash Converters without questions being asked, so we called the police," Chamberlain told The Sun.
"They must have cut a hole in the fuel tank and rammed it full of gold bars," he added. He told The Sun a "quick calculation" suggested the bullion was worth around £2m but IBTimes UK believe it is closer to £1.2m, based on current market prices.
Mead had recently purchased the Russian designed, Chinese built, tank on eBay. It is technically a T69 – an imitation of the T54 in all but name.
It was valued at £30,000 but he traded it for an army lorry and an Abbot self-propelled gun with previous owner Joe Hewes, who had restored the vehicle without discovering the bounty.
Northamptonshire Police took the bars away after responding to Mead and Chamberlain's call then placed them in a safe deposit in London while enquiries are made.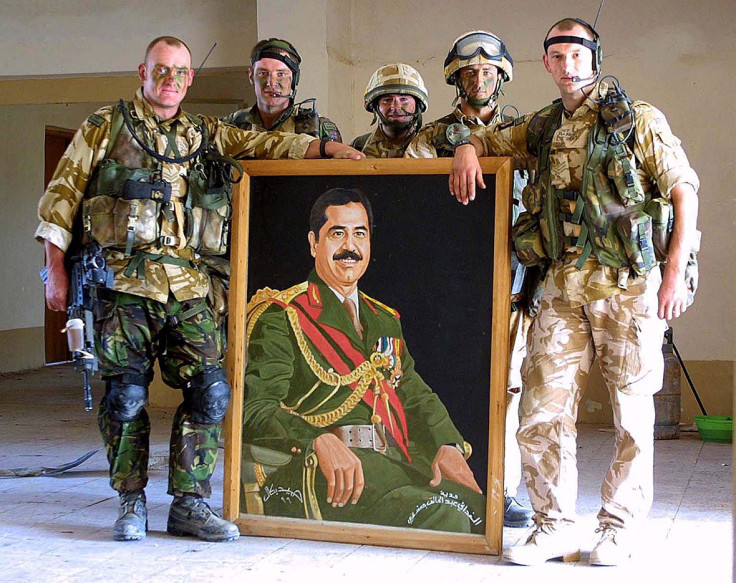 MailOnline reports that investigations will centre on Kuwait, where large amounts of bullion were looted by Iraqi forces during the August 1990 invasion ordered by the dictator.
The 1999 film Three Kings, starring George Clooney and Mark Wahlberg, depicts a band of US soldiers chasing stolen Kuwaiti gold around Iraq in the aftermath of the Gulf War.
Mead said: 'We know it is definitely an Iraqi tank and our theory is the gold is from Kuwait but we don't know."
The publicity surrounding the find has already led to one dubious claim to the riches being made over the telephone telephone.
"I got a call from one person claiming to be a colonel in the British Army saying it was his," said Mead.
Northamptonshire police told newspapers they could not comment due to "operational reasons".