The last Leonardo da Vinci painting still in the hands of a private collector will go on sale in New York next month. It is expected to fetch around £75m (€83.6m) at auction, after it sold for just £45, 60 years ago.
Salvator Mundi, which dates back to 1500, depicts Jesus Christ as the world's saviour. It was painted in the same period as Da Vinci's masterpiece, the Mona Lisa.
It is the only one of da Vinci's 15 surviving paintings that remains in the hands of a private collector.
In the sixteenth century, it was part of the private collection of King Charles I. The next owner was Charles Herbert Sheffield, the illegitimate son of the Duke of Buckingham, who bought it in 1763.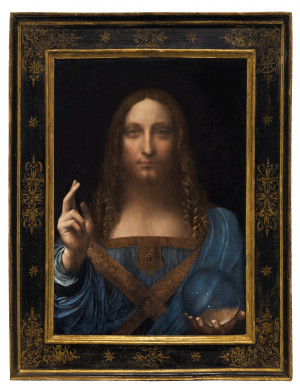 After this period, the painting went missing for almost 140 years and was only tracked down again in 1900 when it was acquired by Sir Francis Cook, 1st Viscount of Monserrate.
Christ's face and hair had been painted over and no one recognised it as a work of the great Renaissance master. Not recognising its true worth, Cook's descendants sold Salvator Mundi at a Christie's auction in 1958 for just £45.
The painting reemerged in 2005 when an American businessman bought it at an auction for £7,500.
It was only in 2011 that the work was confirmed to be an authentic Da Vinci painting and was unveiled publicly. It was sold to Russian collector Dmitry Rybolovlev.
Christie's has announced that Salvator Mundi will be sold at an auction in the Rockefeller Plaza, New York, on 15 November.
The auction house has estimated that the painting will sell for at least £75m.
Christie's chairman of post-war and contemporary art, Loic Gouzer, said: "Salvator Mundi is a painting of the most iconic figure in the world by the most important artist of all time. Despite being created approximately 500 years ago, the work of Leonardo is just as influential to the art that is being created today as it was in the 15th and 16th centuries."
"Leonardo was an unparalleled creative force, and a master of the enigmatic. Standing in front of his paintings, it becomes impossible for one's mind to fully unravel or comprehend the mystery radiating from them – both the Mona Lisa and Salvator Mundi are perfect examples of this," he added.