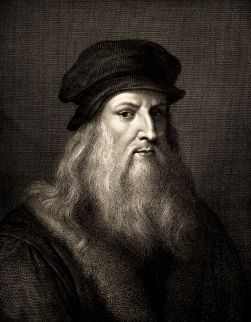 Leonardo DiCaprio is set to star in a film worth his name... literally. Paramount has purchased the rights to a biopic about renowned artist Leonardo da Vinci.
According to Deadline, the studio beat Universal to purchase the rights to Walter Isaacson's book Leonardo da Vinci, the film of which will star DiCaprio as the Renaissance painter/scientist. The actor will also produce the film under his Appian Way banner along with Jennifer Davisson.
The role is bound to be of special significance to DiCaprio who was reportedly named after the Italian master famously known for painting the Mona Lisa and Last Supper. According to the story, the 42-year-old's mother was looking at da Vinci paintings at the Uffizi in Florence, Italy while pregnant when she felt him kick for the first time.
Up until he has to set up his easel, DiCaprio will most probably be busy working on his projects from Martin Scorsese. NME reported that the actor has signed up to star in The Black Hand and Killers Of The Flower Moon.
Since The Revenant actor earned his first Oscar, he has taken a break from acting and has been spotted holidaying at various resort destinations around the world. In July he was seen enjoying some pool time with Titanic co-star and long-time friend Kate Winslet, in St Tropez.
The two were in France for the annual auction gala hosted by the Leonardo DiCaprio Foundation and offered bidders a chance to win a dinner with the on-screen lovers at any restaurant in New York City later this year.