A Samaritans volunteer with a love of history has been jailed after he was caught stashing an arsenal of 160 guns.
Pensioner Paul Bushell's extraordinary cache of machine guns, revolvers, rifles and pistols was discovered in his study, loft and basement after a fire broke out at his Edwardian home in Kent.
The 74-year-old, who kept his stash secret from his family, told police he collected the weapons because he was interested in history, in particular the World Wars.
He insisted he didn't plan to sell any of the guns but simply enjoyed adding to his collection, as well as taking apart the weapons and putting them back together.
Despite detectives finding no links to organised crime, he was jailed for five years at Maidstone Crown Court on Wednesday (15 November).
Bushell had pleaded guilty to seven charges of possessing a prohibited weapon and six counts of possessing ammunition for a firearm without a certificate.
Kent Police said it would have been "catastrophic" had his arsenal been burgled and found its way to dangerous criminal gangs.
The court heard how the weapons and ammunition were discovered following an electrical fire at Bushell's house in Nelson Road, Gillingham, on the afternoon of 7 May.
The former oil industry supervisor was out at the time celebrating a friend's 70th birthday, the Daily Mail reported.
On learning of the fire, he told a fellow guest, "I have done something wrong. I might be in a lot of trouble", before adding "I need to get away before the police get me".
Prosecutor Ian Foinette said: "It was a reference, although not understood by those he said it to at the time, to his knowledge that the fire brigade would have discovered an arsenal of weapons in the house."
After firefighters had extinguished the blaze in an upstairs study, they discovered a number of guns and called Kent Police.
Officers spent four days searching the property and found a total of 160 guns, including unlicensed automatic weapons as well as antique and replica firearms.
Police said a large number of the weapons were discovered loaded and ready to fire, with others reactivated by Bushell having been bought deactivated. Part-built firearms were also found.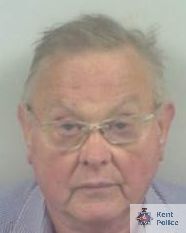 Among the weapons confiscated were a .303 British calibre Mk1 machine gun, a 9mm Luger calibre Sten Mk2 hybrid, 7.62 x 51mm calibre Armalite AR10 rifle, 9mm Luger calibre RPB Industries M10 sub-machine gun, 9mm Luger calibre Kommando semi-automatic pistol, a .62 x 39mm calibre AKM47 rifle and a 9mm Short calibre FN 1910 semi-automatic pistol.
Bushell was arrested and charged on 15 September.
Passing sentence, Judge Philip Statman said the law required a jail sentence of five years.
"These are all grave offences committed by you, a person who knew exactly what you were doing, knowing well what the law requires," the judge said.
"You did everything you could to enhance your collection without due regard for the real importance of complying with the law. You knew what the law said, you chose to ignore the law.
"You posed at your home address a very considerable risk to the community as a whole. I have no hesitation in indicating that this is a case where the minimum sentence must apply."
He added: "It goes without saying that there is an irresistible conclusion to be drawn that you more than anyone would know the danger in possessing weapons of this kind.
"The destruction that potentially they can cause, particularly should they fall into the hands of criminals.
"While it is not suggested you have any connection with the dark web, you obtained parts for your collection at various arms fairs where you seem to be well-known and trusted within the collection community.
"It doesn't take an enormous amount of imagination to see the risk that would take place within the community as a whole if your home had ever been burgled."
Bushell's barrister, Benjamin Hargreaves, had urged the court to consider an alternative punishment to jail.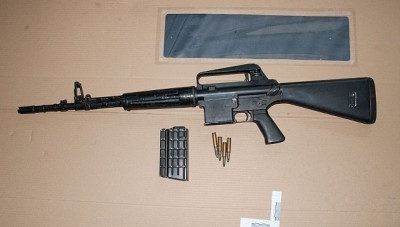 He said his client, a grandfather and father of three, was not a dangerous criminal but simply a collector and history lover.
"He received as a present his first firearm at the age of 11. It began an absolute fascination with weaponry and expanded to any mechanical object," Hargreaves said.
"He is a collector of guns, clocks, engines, household appliances, all of which he can take apart, recondition, and put back together. It was an obsession, but a genuine and pure obsession."
He added: "He knew this obsessive collecting was breaking the law. But it was done not through the dark web or by meeting strange men behind pubs. It was at boot fairs, arms fairs and military fairs."
The court also heard that after falling out with his children and becoming estranged from his grandchildren, Bushell spent more and more time alone and enjoying his hobby.
He would ban family members, including his wife, from certain parts of his home to ensure his collection was kept secret, and would even fire some of the weapons within the confines of the property.
The court heard that since retiring, Bushell has volunteered with the Samaritans and Witness Service. He was also a tour guide at the Napoleonic Fort Amherst in Chatham, Kent.
He waved at his wife sitting in the court's public gallery as he was led from the dock to the cells.