Nigerian President Muhammadu Buhari has warned his country will "not tolerate" another independent Biafra. The leader, who took office in May 2015, told Al Jazeera while on an official visit to Qatar his administration will not engage in a dialogue with pro-Biafran activists.
Pro-Biafrans call for the independence of the Biafran territories forcibly annexed to Nigeria during the British colonisation, which ended in 1960. They hold regular marches across the country's south-east calling for a breakaway and the release of their leader Nnamdi Kanu, head of the Indigenous People of Biafra (Ipob).
"We have a democracy system now. Let them organise themselves and vote to have a state within a state," Buhari said. "But to try and interfere looking for Biafra after two millions people were killed, they are joking with the security and Nigeria won't tolerate Biafra."
Pro-Biafrans often allege that security forces arbitrarily arrest and attack peaceful protesters, something that both the army and police deny.
It is believed that during one of the latest demonstrations held in Aba state on 9 February, at least 10 people were killed by the army and police, with footage purportedly showing Nigerian security forces attacking pro-Biafrans being widely circulated on social media.
Al Jazeera journalist Martine Dennis told Buhari she could show some of the footage allegedly showing violence against pro-Biafrans, Buhari refused.
The Nigerian government has always maintained that Nigeria's unity is a priority for the country and that although peaceful pro-Biafran protests are welcome, demanding the breakaway of the Biafran territories is against the constitution.
The government also told IBTimes UK that it does not consider the separatist movement a threat to the current leadership, and defined pro-Biafrans as an "insignificant number of frustrated people who are not a threat to the existence of Nigeria".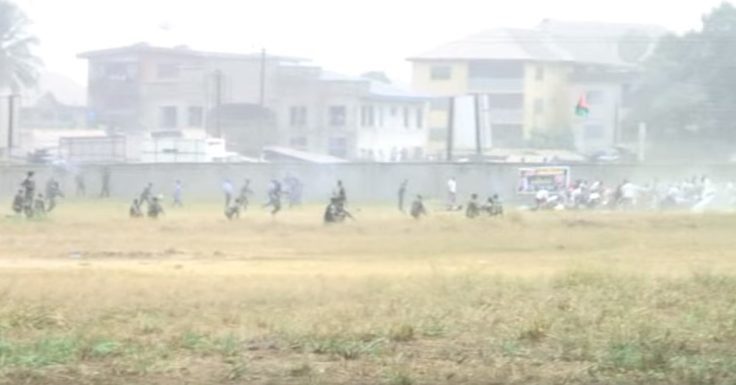 Nnamdi Kanu's trial
Kanu, who is also radio Radio Biafra director as well as Ipob leader, appeared in court on 7 March as he is standing trial on six counts of treasonable felony charges.
Kanu was arrested by the State Security Service (DSS) in Lagos in October 2015 on conspiracy and terrorism charges, which were later dropped.
A day after the Abuja High Court ruled he should be released, officials pressed new treasonable felony charges against him, while Buhari said Kanu would not be granted bail due to the "atrocities" allegedly committed.
Kanu was kept in DSS custody until Hon Justice John Tsoho ruled he should be transferred to the the Nigeria Prison Service in Kuje, about 40km south-west of Abuja, so family members could visit.
Meanwhile, Amnesty International told IBTimes UK that Kanu's earlier detention was unlawful. Lucy Freeman, senior research adviser at Amnesty, said: "We have seen in several cases the practice of the DSS of arresting someone, holding them unlawfully, and when that person challenges their detention with bail, they are immediately charged with something else to prolong their detention. That's unlawful detention," Freeman said.
"There are a number of people who have been detained in connection to Boko Haram who had a similar thing happened. The question is: To what extend is the rule of law respected? By looking at the examples of Kanu and other cases it seems that it is not being respected."
---
Nigeria up close: Check out our Flipboard magazine
---