Same-Sex Marriages in UK: How Have Attitudes Changed?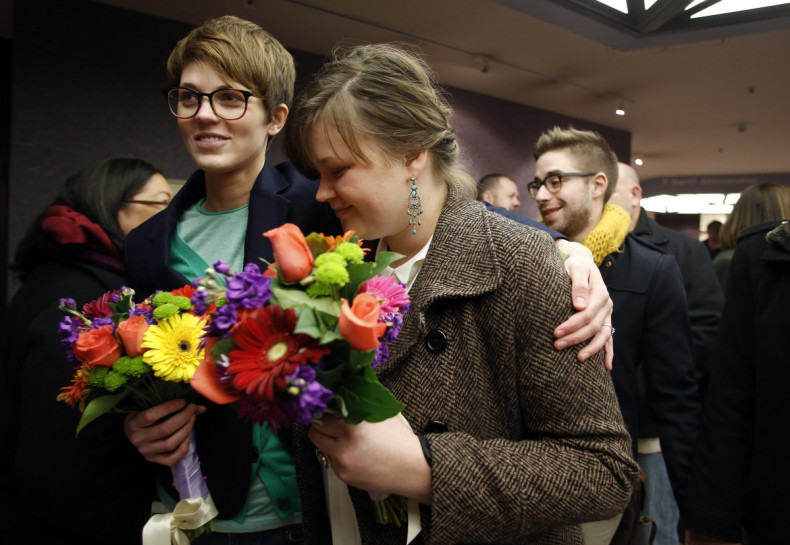 As final preparations are made for the first same-sex marriages in the UK, it has been revealed that one in five Britons would turn down an invitation to a gay wedding.
Some 22% of those surveyed about same-sex nuptials said they would refuse to go to a gay wedding if they were invited.
A BBC Radio 5 ComRes survey of 1,007 people on the eve of the first legal gay weddings in Britain, revealed that 68% agreed they should be permitted, while 26% opposed. Men were twice as likely to decline an invitation than women.
The gay rights charity Stonewall said people's attitudes were "incredibly positive" but Catholic Voices, who represent the Catholic Church, said the findings revealed people remained "deeply uncomfortable" with being honest about their feelings on same-sex marriage.
Since the 1980s, there has been a decrease in Britons who take a strongly disapproving view on the issue. While 74.8% of Catholics and 79.7% of Christians opposed same-sex marriages, these statistics had fallen below 50% in each group by 2010, according to British Religion in Numbers. The most favourable were those not affiliated to any religion, as only 20% said they were against same-sex marriage in 2010.
It seems that leading religious figures remain divided over the issue.
This week, according to the Telegraph, one of Britain's top Roman Catholic MPs said he felt unable to take Holy Communion in his local church after his bishop suggested that politicians who voted for same-sex marriage should not be allowed to partake in the sacrament.
Conor Burns, co-chair of a parliamentary committee on Vatican relations, said the comments by Rt Rev Philip Egan, the Bishop of Portsmouth, were a "tragedy".
However, Archbishop Justin Welby recently told the Guardian: "I think the Church has reacted by fully accepting that it's the law, and should react on Saturday by continuing to demonstrate in word and action, the love of Christ for every human being."
In the general public, opinion polls have generally shown support for same-sex marriage among Britons. In 2004, a poll by Gallup reported that 52% agreed that "marriages between homosexuals" should be recognised, while around 45% disagreed. In the same survey, 65% of the British public said gay couples should be allowed to form civil unions.
In 2006, a Eurobarameter survey revealed that 46% of Britons agreed that same-sex marriages should be allowed throughout Europe, while in September 2008, ICM Research for the Observer found 55% of Brits believed gay couples should be allowed to wed.
The figures have continued to increase over the last three years. A YouGov poll in 2012 showed that 43% of people supported same-sex marriage - and 32% supported civil partnerships. Only 16% were opposed to gay relationships entirely and the support proved to be highest among women - a trend which has continued in recent research findings.