The Scottish Parliament has approved legislation that will allow same-sex couples to marry. The vote, described as "historic", was in favour of changing the law and was approved by Holyrood on Tuesday.
Entitled the Marriage and Civil Partnership Bill, it was passed by 105 votes to 18. The result was met with cheers from supporters and campaigners and the first gay marriage ceremonies are expected to take place before the end of the year.
Alex Neil, the Scottish Health Secretary, said the result was "one of the great historic days of the Parliament" and the bill is significant to "the new Scotland we are creating in the 21st century".
He added: "Today is a momentous day for equality in our nation. No longer will persons of the same sex be barred from showing their commitment to each other through getting married.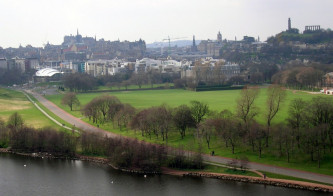 "This legislation sends a powerful message to the world about the kind of society we in Scotland are trying to create - a nation where the principles of fairness and equality are weaved into the very fabric of our society, a nation that protects and promotes freedom of expression, a nation that cherishes love.''
Tom French, the policy coordinator for the Equality Network, has stated the bill is a monumental milestone in achieving equal rights for the LGBT community.
French said: "Today will be remembered in history as the day that lesbian, gay and bisexual people were finally granted full legal equality in Scotland, and given an equal right to marry the person they love."
He added: "This is a profoundly emotional moment for many people who grew up in a country where being gay was still a criminal offence until 1980. Scotland can be proud that we now have one of the most progressive equal marriage bills in the world, and that we've sent out a strong message about the kind of country we are.
"We know this change means so much to lesbian, gay, bisexual and transgender people across Scotland and we look forward to the first same-sex marriages taking place as soon as possible."
Colin Macfarlane, director of Stonewall Scotland, echoed the sentiments: "This a truly historic moment for lesbian, gay, bisexual and transgender people in Scotland. We're delighted that MSPs have overwhelmingly demonstrated that they're committed to building a Scotland fit for the 21st century."
While the majority of parliament and supporters of the change are jubilant, some religious groups have denounced the result of the vote. A spokesman for the campaign group Scotland for Marriage called the passing of the bill a "sad day for those who believe in traditional marriage".
He added: "The overwhelming majority of MSPs have completely ignored public opinion and steam-rollered through a law which is ill-conceived, poorly thought out and will, in time, discriminate against ordinary people for their sincerely held beliefs."