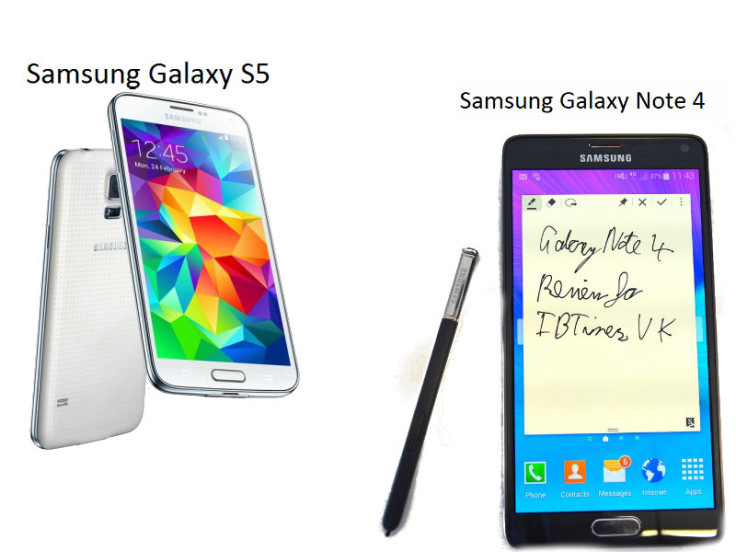 Smartphone giant Samsung is known for its release of high-end flagship devices, and 2014 was no different for the firm. The South Korean company launched two powerful smartphones - the Samsung Galaxy S5 and the Galaxy Note 4.
The Samsung Galaxy S5 follows on from the successful Galaxy S4, while the Galaxy Note 4 assumes the phablet mantle from the Note 3.
Both are powerful devices, with screen size, stylus, and TouchWiz UI tweaks differentiating the offerings - here's how the devices measure up.
Samsung Galaxy Note 4 vs Samsung Galaxy S5: Screen
Samsung Galaxy Note 4 comes with a large 5.7in capacitive touchscreen with resolution of 1440 x 2560 at 515 pixels per inch (ppi). The display supports 16M colours, and is protected by Gorilla Glass 3.
The Galaxy S5 incorporates a slightly smaller 5.1in Amoled capacitive touchscreen, with resolution of 1080x1920 and 432ppi. Like the Galaxy Note 4, the Galaxy S5's screen is also protected by the Gorilla Glass 3.
Both smartphones boast multi-touch support.
The Galaxy Note 4 clearly emerges as a winner, with better display resolution and superior pixel density allowing for better content viewing in low light conditions.
Samsung Galaxy Note 4 vs Samsung Galaxy S5: Hardware
The Galaxy Note 4 comes in two variants, depending on which market is being served. One uses a 2.7GHz quad-core Snapdragon 805 chipset with Adreno 420 GPU. The other uses an ARMv8-A Exynos 7 octa-core chipset, split into two quad-cores: a Cortex-A57 at 1.9GHz and a Cortex-A53 at 1.3GHz. Both variants are supported by 3GB RAM.
The Galaxy S5 boasts a 2.5GHz Qualcomm Snapdragon 801 quad-core processor, and is supported by a 2GB RAM.
Both smartphones will provide good multi-tasking and gaming capabilities, but the Note 4 trumps the S5 on the spec sheet.
Samsung Galaxy Note 4 vs Samsung Galaxy S5: Memory
Samsung's Galaxy Note 4 offers internal storage options of 32GB and 64GB, which can be officially expanded by up to 64GB via MicroSD card, although users report using 128GB cards without issues.
The Galaxy S5 has internal storage options of 16GB and 32GB, expandable by up to 128GB with a microSD card.
If storage capacity options are important factors in your purchase, then the S5 and Note 4 offer levels of storage options.
Samsung Galaxy Note 4 vs Samsung Galaxy S5: Camera
Both the Galaxy Note 4 and Galaxy S5 feature an identical 16MP rear camera which should give amateur photographers plenty to cheer about.
However, the Note 4's 3.7MP front-facing camera steals the limelight away from the 2.1MP front camera offered by the Galaxy S5.
Both devices draw level in terms of offering a decent camera that is worth paying for.
Samsung Galaxy Note 4 vs Samsung Galaxy S5: Software
Samsung's large Galaxy Note 4 runs Google's Android 4.4.4 (KitKat) OS straight out of the box, whereas the Galaxy S5 runs the comparatively older Android 4.4.2. Both have the Samsung TouchWiz UI on top.
Both the devices are expected to get Google's latest Android 5.0 (Lollipop) OS upgrade sometime in the near future, meaning they draw level in this area.
Samsung Galaxy Note 4 vs Samsung Galaxy S5: Release date and price
Both the smartphones have been released and are available across the world.
Samsung Galaxy Note 4, being a premium high-end smartphone, costs £600 in the UK for the SIM-free variant. An unlocked version of Samsung Galaxy S5 can be purchased in the UK for £520 .
Overall, the Galaxy Note 4 is a pure high-ender packing lots of power under the hood and a price tag to match. Though the Galaxy S5 costs less than the Galaxy Note 4, one can splurge an extra £80 to purchase a premium high-end smartphone.