Samsung Galaxy Note owners can finally enjoy the taste of Android 4.0 Ice Cream Sandwich update. The Korean giant has started rolling out its Android 4.0 ICS for Galaxy Note users. The upgrade was originally announced for March, but it was then pushed back to the second quarter. "Samsung UK will confirm details regarding the Android 4.0 Ice Cream Sandwich update for Galaxy Note in due course," elaborated CNET UK.
As promised, the upgrade comes with the Premium Suite which includes the latest S Note app and My Story which offers better functionality. The S Note app will allow users to scribble on pictures and web pages. The My Story app lets users create digital cards as well as Video Everywhere. It has the ability to play videos in part of the screen and the user can utilise the other part of the screen for some other purpose, according to CNET UK. The S Memo allows users to record ideas. The digital scrapbook tool allows users to just write the equation and the tool will automatically solve it after recognising the user's handwriting.
Slash Gear says the update is 319MB in size and comprises the latest version of TouchWiz, according to Galaxy Note owner Devin Balentina who tweeted an image of the software upgrade.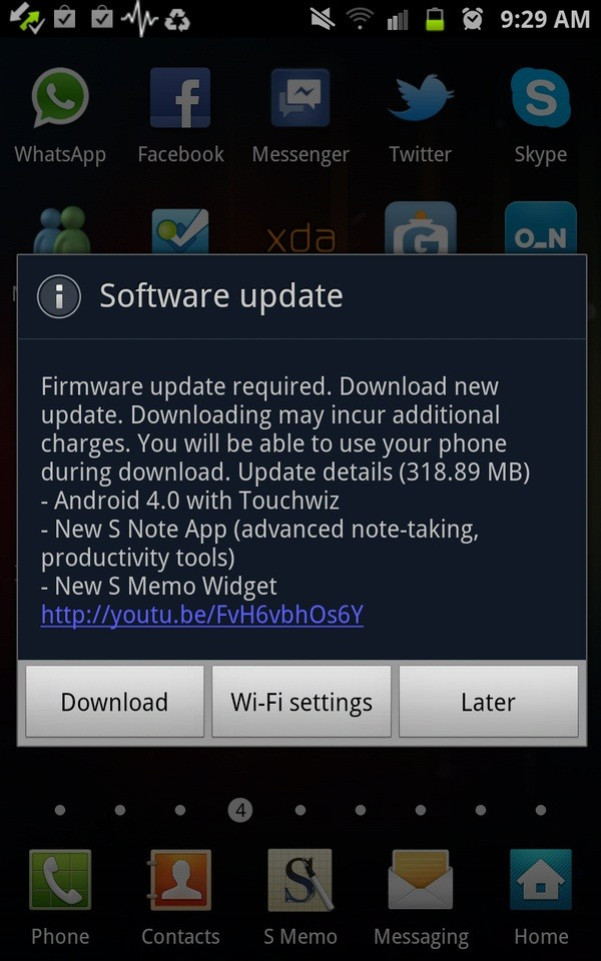 The Galaxy Note and its S Pen have turned out to be interesting gadgets. Thanks to S Pen which offers a full touch screen to create a multi-input experience to users. Its enhanced technology features pressure sensitivity, precision and speed. Moreover, the ICS update is just like icing on the cake, as it is the gigantic 5.3in screen that is used to view more with less scroll and screen transitions. The latest Premium Suite upgrade will offer better service to users.
The Galaxy Note flaunts a gorgeous-looking 5.3in HD Super AMOLED display. It is powered by a 1.4GHz dual-core CPU and an Exynos chipset. It includes an advanced rear-facing camera of eight megapixels with LED flash which features panorama shot, action shot and smile shot.
According to Redmond Pie, it is reported that the ICS update for the Galaxy Note is available for download in Germany via Samsung Kies software.
Check out the video of Premium Suite with ICS: