Samsung recently announced the release of the Galaxy Note 10.1, first introduced at the Mobile World Congress (MWC). The released information sheet of the product confirms a 1.4GHz quad-core processor, Android 4.0 (Ice Cream Sandwich), two cameras (front - five megapixels; rear - 1.9 megapixels) and a 1280x800 WXGA display. Most importantly, it will come with the S Pen input technology that Samsung claims has been optimised for the 10.1in screen. The device will come with three connectivity options - Wi-Fi Only, Wi-Fi + 3G HSPA Plus Connectivity and Wi-Fi + LTE.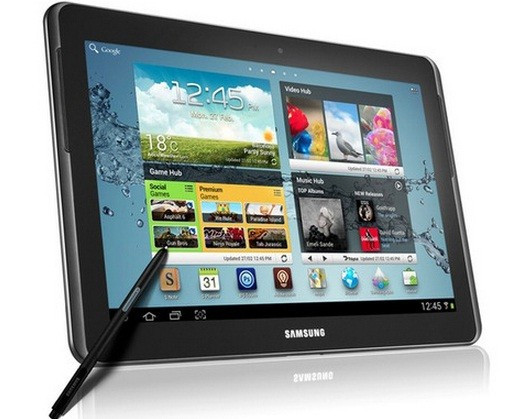 Check out how the Galaxy Note 10.1 does against Apple's new iPad
Display: The device features a 10.1in WXGA LCD display with a resolution of 800x1280 pixels and a pixel density of 149 pixels per inch (ppi). Samsung claims the Note 10.1's multi-screen feature enables users to use two different apps or features simultaneously.
Apple's new iPad features a 9.7in LED-backlit multi-touch, high-resolution Retina Display screen with In Plane Switching (IPS) technology and a resolution of 1536x2048 pixels with a pixel density of 264 ppi. The display is covered with a fingerprint-resistance oleophobic coating. The Retina Display is now a trademark part of Apple's product range and an AnandTechbenchmark indicates it is a very powerful one. In fact, as of now, there is little competition to the Retina Display's capabilities, although Samsung is reportedly planning for an 11.8in tablet expected to feature a Retina-like Display, with a resolution of 1600x2560 pixels
Dimensions: The Note 10.1 measures 262x180x8.9mm. The 3G version weighs 3g more than the Wi-Fi's 597g. The new iPad measures 241x186 x9.4mm and the Wi-Fi + Cellular version weighs 10g more than the plain Wi-Fi model.
Operating System: The Note 10.1 will run on Android 4.0 (Ice Cream Sandwich). There is no confirmation on Android 4.1 (Jelly Bean) update. The new iPad was launched with iOS 5.1 and Apple too has an updated OS version - iOS 6 - but as with the Jelly Bean update, there is no word on specific release dates; a fall release is expected.
Processor: Samsung's device will be powered by a 1.4GHz Exynos quad core processor and 2GB of RAM. Incidentally, this is the same processor used in the international version of the Galaxy S3. The new iPad is powered by Apple's A5X dual core custom designed processor with quad-core graphics and 1GB of RAM.
Camera: The Note 10.1 has a five megapixel main camera with auto focus and LED flash. It also packs a front-facing 1.9 megapixel camera. The new iPad has a five megapixel iSight rear-camera capable of recording HD videos in 1080p at 30 frames per second (fps) with audio. The device has a Face Time VGA-quality front camera which can capture photos and video at 30 fps.
Connectivity: The Note 10.1 offers Bluetooth v4.0, Wi-Fi 802.11 a/b/g/n, Wi-Fi Direct, dual-band and Wi-Fi hotspot. In addition, it supports data speeds of up to HSDPA 21 Mbps and HSUPA 5.76 Mbps. The new iPad offers Wi-Fi 802.11 a/b/g/n and Bluetooth v4.0.
Storage: The new iPad and the Galaxy Note 10.1 both offer three variants, with 16/32/64GB of memory. The difference is that only the Note 10.1 supports microSD cards.
Battery: Samsung's device runs on a 7000mAh Li-ion battery. The new iPad is powered by a built-in 42.5 watt-hour rechargeable lithium-polymer battery that Apple claims can provide 10 hours of Internet browsing (on Wi-Fi), watching video or listening to music.