With the announcement of Samsung Galaxy S3, the Korean giant also unveiled its range of accessories for the new smartphone which included a wireless charging kit.
According to Geeky Gadgets, the wireless charging kit has been delayed until September. It is reported that the site has received an e-mail from UK retailer Mobile Fun which claims: "We've been just told so pretty bad news relating to the Samsung Galaxy S3 - the Official Wireless Charger (EAD-K10UBEGSTD) we've all been so excited about won't be released until September! So we're looking at nearly a four-month wait for the wireless charging dock."
The wireless charging kit allows users to charge their device without plugging the cable. The wireless charging kit was expected to be released by the end of May along with other accessories of Galaxy S3.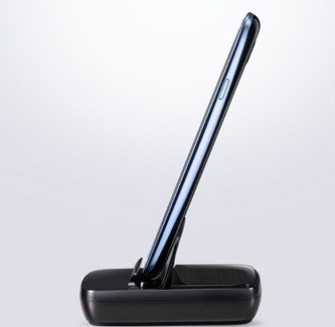 The accessories include an AllShare cast dongle, C Pen stylus, S Pebble MP3 player, flip cover, docks and wireless charging kit including a battery charger stand. The AllShare cast dongle will allow users to share the handset's screen with Digital Living Network Alliance (DLNA) - enabled gadgets via Wi-Fi. The C Pen stylus - a capacitive stylus pen is made up of an aluminium body and has a 3mm rubber tip which perfectly suits the smartphone's sleek body. The S Pebble, a tiny music player with 4G of storage, can be plugged into the Samsung smartphone with the ability to transfer music on the go. The flip cover will include a replacement back with an attached screen cover that flips back when the user wants to use the screen.
"The delay could be down to Samsung's recent announcement that it has formed a new Alliance for Wireless Power with Qualcomm," claims Slash Gear.
The Galaxy S3 smartphone is expected to go sale in Europe on 29 May while the United States can expect the device in June. The UK carriers have announced availability while a few retailers have started accepting pre-orders for Galaxy S3, according to GottaBe Mobile. Recently Vodafone unveiled its price for the smartphone, according to CNET UK. "The 32GB model is exclusive to Vodafone UK for the first month, so it won't be on sale anywhere else," claims CNET UK.