Retailers in the Netherlands have received the first batch of the blue Samsung Galaxy S3, which was delayed due to reported manufacturing difficulties, reports Sammobile.
The Phone House has posted a notice on its Web site stating the Marble Blue Galaxy S3 is now available for purchase. In addition, Coolblue, another Dutch retailer, has posted similar information on Twitter. The notice says a small batch has been received and will go out to customers at the top of their waiting lists. These customers are expected to receive the phone by the end of the week. Castle Telecom, another retailer, is said to have mailed its customers with the same information.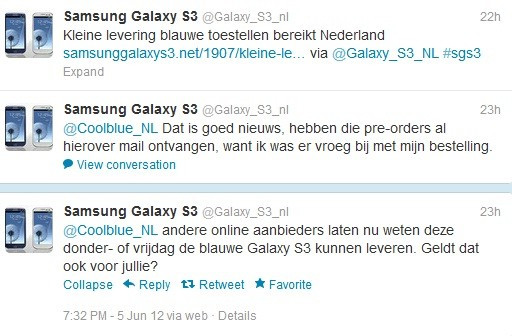 An employee from The Phone House, the Dutch branch of Carphone Warehouse, said the blue version of the Galaxy S3 was slightly different from the colour shown at the launch in London.
According a report by Android Authority, the Pebble Blue version of the Galaxy S3 may be replaced with a new colour type dubbed as Metallic Blue, although there is no official confirmation on this matter.
Webhallen, a Swedish online store, posted a message on its site stating that the Samsung GT-i9300 Galaxy S3-Metallic Blue version was available for sale but the images used were of the Pebble Blue model.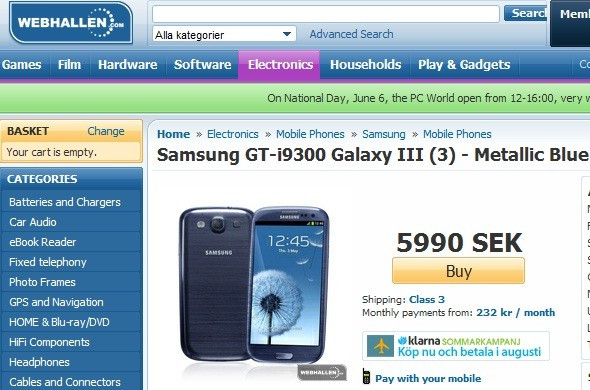 An IBTimes UK report last month stated the Pebble Blue version of the Galaxy S3 would be delayed by three more weeks due.
"In order to meet the highest internal quality standards and to provide the best quality Galaxy S3 to customers, a short supply of pebble blue version is expected in some regions in the next two to three weeks," a spokeswoman for Samsung earlier said.