Samsung Galaxy S3 is yet to complete its one year cycle, announced in May last year, the South Korean major has officially unveiled the fourth generation Galaxy S smartphone at the mobile unpacked event in New York. Samsung promises the Galaxy S4 will enter the global smartphone market from the second quarter of this year. The new device will be launched in 155 countries on 327 carriers. The Galaxy S4 will first launch with two colour options: Black Mist and White Frost with a variety of additional colours to come later this year. Featuring a 5in full HD Super AMOLED display, the new Galaxy smartphone bundles several new features along with.
IBTimes UK brings out a detailed comparison of the Samsung Galaxy S4 and Samsung Galaxy Note 2 to help the reader decide the best buy.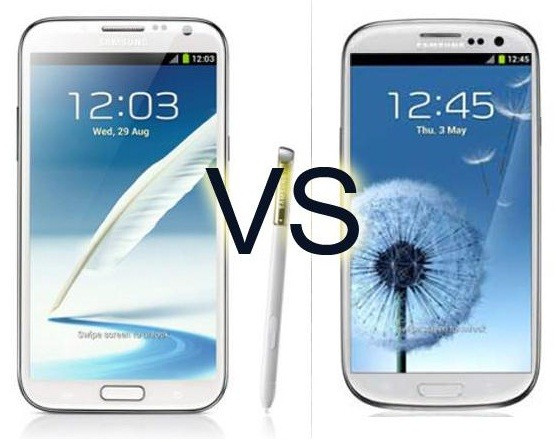 Galaxy S4 vs Note 2: Display
Samsung's newest, the Galaxy S4, comes with a 5in display against the larger 5.5in display of the second generation Galaxy Note.
Both handsets feature Super AMOLED displays; the Galaxy S4's screen covered by Corning's third generation Gorilla Glass which was announced at this year's CES event earlier in January in Las Vegas whereas the Galaxy Note 2 utilises the second generation Gorilla Glass. The Gorilla Glass 3 with Native Damage Resistance (NDR), as claimed by the manufacturer, provides enhanced scratch resistance and reduces scratch visibility.
The full HD display of Galaxy S4 featuring screen resolution at 1080 x 1920 pixels giving it a pixel density at 441 pixels per inch (ppi) beats the 5.5in HD display of Note 2 with screen resolution measuring 720 x 1280 pixels and pixels density at 267 ppi. In addition to that, the Galaxy S4 has more number of pixels when compared to its major market rival, Apple iPhone 5, which incorporates high resolution Retina display (with 326 ppi pixel density). The Galaxy S4, claimed to be world's first full HD Super AMOLED display, with such higher pixel count promises clear viewing quality.
The Galaxy Note 2, featuring a screen ratio at 16:9, is bright and very responsive to touch inputs. Its larger display provides clear and vivid viewing angle with equally good contrast. The extra size of the device makes watching video, web browsing and photo viewing better than other smartphones.
Galaxy S4 vs Note 2: Dimensions
In terms of physical dimensions, the Galaxy Note 2 is larger and wider. But Galaxy S4 is reasonably thinner than the Note, featuring a thickness of 7.9mm only. The Galaxy S4 is approximately 53g lighter than the Note 2, weighing just 130g.
Galaxy S4: 136.6 x 69.9 x 7.9mm
Galaxy Note 2: 151.1 x 80.5 x 9.4mm
Galaxy S4 vs Note 2: Operating System
Though the Note 2 was first shipped with Android 4.1.1 Jelly Bean. It is currently running on a slightly upgraded version - Android 4.1.2, which brings a host of new features such as enhanced notification panel, smoother browser operations, continuous input in Samsung keyboard, ink effects on lock screen and Group Cast app.
The Galaxy S4 will run on the latest version of Jelly Bean, Android 4.2.2. The latest operating system (OS) brings significant improvement over the previous version. The key features of the OS include Gesture Typing, Photo Sphere, Daydream, enhanced Google Now, Google Search and Android Beam. It adds support for wireless display enabling users to share movies, videos and images on their TVs.
Moreover, Samsung has introduced an array of new features in its latest flagship smartphone such as the S Translator, which provides instant translation both from speech-to-text and text-to-speech. The Smart Pause enables users to control the screen and the Smart Scroll allows users to scroll the browser or emails up and down without touching the screen. With Air View, users can hover their fingers to preview the content of an email, S Pannner, image gallery or video without opening it. The other key features include S Voice Drive, Optical Reader, Air Gesture and WatchON.
Galaxy S4 vs Note 2: Processor and RAM
Both Galaxy S4 and Galaxy Note 2 use Samsung's own Exynos chip sets.
As rumoured earlier, the Exynos 5 Octa-core processor (1.6GHz/1.2GHz) will be the power house for the Galaxy S4. The Exynos 5 features PowerVR SGX544MP3 graphics unit.
Samsung boasts the Exynos 5 Octa-core processor mobile processor is world's first to implement the ARM big.LITTLE processing technology based on the Cortex-A15 CPU. The Exynos 5 Octa integrates a total of eight cores; four cores are Cortex-A15 cores to handle processing-intense tasks and the rest four Cortex-A7 cores for lighter workloads. This eight-core processor promises to deliver high level performance, intense gaming and multimedia playback while offering up to 70 per cent higher energy efficiency compared to the previous Exynos quad-core processors.
The Note 2, on the other hand, uses Exynos 4 chip featuring a quad-core Cortex-A9 processor and paired with Mali-400MP graphics unit. This is the same processor used in the Galaxy S3. But the key difference is the Galaxy S3's quad-core processor runs with a clock speed at 1.4GHz whereas the Galaxy Note 2's processor is clocked at 1.6GHz.
According to benchmark tests, the Exynos 4 quad is a powerful processor delivering faster performance.
Both Galaxy S4 and Note 2 have 2GB of RAM each.
Galaxy S4 vs Note 2: Camera
The Galaxy S4 has a high resolution 13 megapixel rear-camera and a two megapixel front-camera. Both cameras are capable of recording 1080p video at 30 frames per second (fps).
Samsung has added a new camera feature called Dual Camera, which allows simultaneous use of both front and rear cameras. The Dual Video Call function enables users to make or receive call while showing what the users are looking at during the call. The Drama Shot function allows to see all the actions on one continuous time-lapse whereas the Sound and Shot feature stores sounds and voice together while capturing photos. Furthermore, photos can be stored automatically in a photo album with the new Story Album function.
The Galaxy Note 2, unlike the Galaxy S4, has an eight megapixel rear-camera with technologies including auto-focus, LED flash, simultaneous HD video and image recording, geo-tagging, touch focus, face and smile detection and image stabilisation. The rear-camera can record 1080p video at 30 fps. The handset has a 1.9 megapixel front-camera, which is capable of HD video recording.
The Note 2's camera also has some interesting features such as Buddy Photo Share, Burst Shot and Best photos. These features were first introduced in the Galaxy S3. The Note 2 carries a camera function called Best photos which allows users to choose the most preferred face or pose of each person from a group photo.
Galaxy S4 vs Note 2: Connectivity
The Galaxy S4 offers Wi-Fi 802.11 a/b/g/n/ac, dual-band, DLNA, Wi-Fi Direct, Wi-Fi hot spot, Bluetooth v4.0 with A2DP, EDR and LE. The Note 2 also supports Wi-Fi 802.11a/b/g/n, dual-band, DLNA, Wi-Fi Direct, Wi-Fi hotspot, Bluetooth v4.0 with A2DP, LE and EDR. Both smartphones support HSDPA, HSUPA and LTE data speeds.
The Galaxy S4 and the Galaxy Note 2 are Near Field Communication (NFC) enabled devices and offer 4G LTE network speeds.
Galaxy S4 vs Note 2: Storage
The Galaxy S4 and the Note 2 share similar storage features. Both devices offer three storage options: 16GB, 32GB and 64GB and support microSD card for additional storage expansion.
Galaxy S4 vs Note 2: Battery
The Galaxy S4 has a 2600mAh battery against the 3100mAh battery of Galaxy Note 2.
Galaxy S4 vs Note 2: Price
Samsung did not cater any information on the pricing details for its new handset. Some of the UK network operators and retailers have requested interested consumers to register for the Galaxy S4. But they are yet to reveal the retail price of the product. However, it is expected to cost somewhere around £499 including VAT.
The 16GB version of Galaxy Note 2, according to Clove UK, costs £516 (including VAT).
Click here for comparison between Samsung Galaxy S4 Mini and Galaxy S3 Mini.