Samsung has revealed the Gear S3 smartwatch at a media event in Berlin. The Gear S3 replaces the year-old S2 and will go up against the Apple Watch when it goes on sale in the coming weeks.
Announced in Berlin on the eve of IFA, Europe's largest consumer technology trade show which takes place in the same city, there are two models in the Gear S3 lineup, called Classic and Frontier. Pictured above, the Frontier model is larger, bulkier and designed to look like an outdoors adventure watch. The chunky bezel rotates, just as it did on the Gear S2, to scroll through menus and messages.
A second Gear S3 model, called the Classic builds on the same design as the Gear S2 Classic, but features a smoother bezel, redesigned leather strap, and the two buttons at the two o'clock and four o'clock positions are far more pronounced than before.
As before, the Gear S3 range is powered by the Tizen operating system and should provide at least two days of life on each charge.
As well as the rotating bezel, the Gear S3 is controlled via a circular 1.3in touch screen with a resolution of 360 x 360. A huge improvement over the S2 is how the screen can be left on all of the time, not just when you move your wrist to check the time.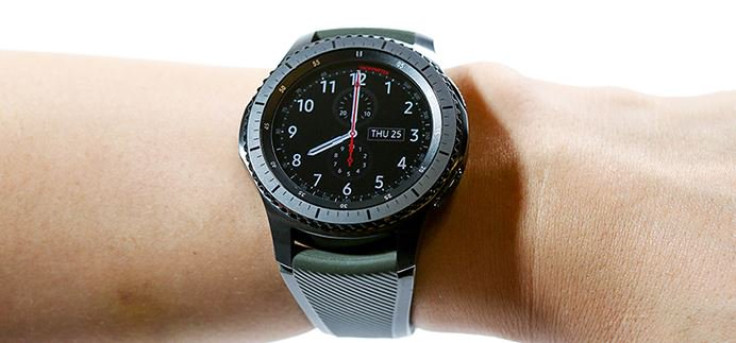 Much like the Apple Watch and other smartwatches, the Gear S3 can display incoming messages, emails and app notifications, as well as calls.
All versions of the Gear S3 come with an internal speaker and GPS, as well as an NFC chip for contactless payments. There will be a version with LTE to handle phone calls without being connected to a smartphone, but this is unlikely to be sold in the UK.
Battery life is, Samsung claims, three days (even for the model with LTE). This is helped in part by a watch-only mode which kicks in when the battery falls to 5%; in this state, doing nothing but display the time, the Gear S3 will apparently last for 24 hours.
Samsung says the Gear S3, which will be sold alongside the S2, has "thousands" of different watch faces, plus around a dozen straps for each model.
The Gear S3 will go on sale in the coming weeks, but Samsung is yet to say how much either model will cost. For context, the Gear S2 currently retails for between £220 and £300.
Samsung may have beaten Apple to the punch this time, but a second-generation Watch could be revealed as soon as 7 September, when Apple is expected to reveal the iPhone 7 and its new wearable.
More to follow...