A man in Florida, who claims to have suffered severe burns after his Galaxy Note 7 exploded in his trouser pocket, has filed a lawsuit against Samsung. This is reportedly the first case against Samsung in the US related to a Note 7 battery exploding.
Jonathan Strobel, 28, filed the case in a Florida state court in Pam Beach County, just a day after Samsung recalled about one million Note 7 units sold in the US.
Strobel of Boca Raton said he was in Costco store in Palm Beach Gardens on 9 September when his Note 7 exploded. The explosion resulted in severe burns on his right leg.
While trying to remove his phone from his trousers, Strobel said his left thumb was severely burned. The lawsuit claims unspecified damages for medical bills, lost wages, pain and suffering and other injuries.
Keith Pierro, Strobel's lawyer said, "He has a deep second-degree burn, roughly the size of the phone, on his right thigh. Unfortunately for my client, the recall came too late."
The recalled Note 7 handsets were sold before 15 September through carriers and stores across US including AT&T, Best Buy, Sprint, T-Mobile, US Cellular, Verizon and Samsung online stores and other websites.
The US Consumer Product Safety Commission (CPSC) said it has received 92 reports of batteries overheating, including 26 reports of burns and 55 reports of property damage, including fires in cars and a garage.
Samsung spokeswoman Danielle Meister Cohen in an emailed statement told Reuters: "We don't comment on pending litigation. We are urging all Note 7 owners to power their device down and exchange it immediately."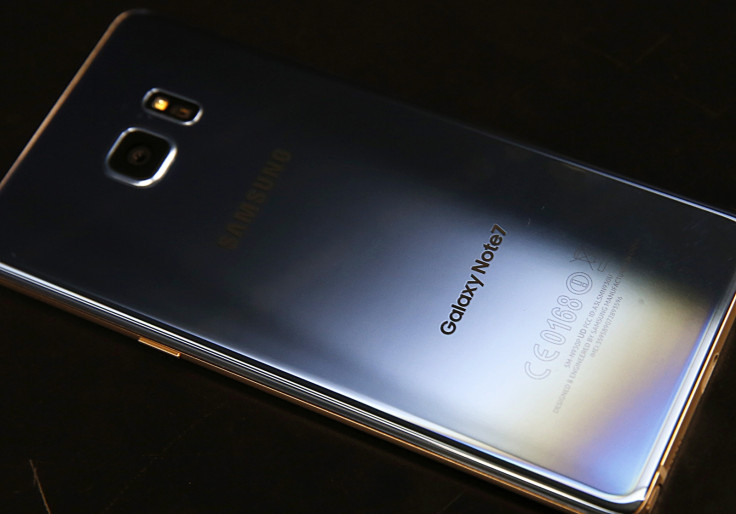 Samsung recently announced the new Note 7 replacement devices will be available in the US at most of the retail stores from 21 September. Consumers who have affected devices can now replace their current phone with the new unit under the terms of US Note 7 Exchange Program.
Tim Baxter, president of Samsung electronics America in a statement said, "Consumer safety is always our highest priority. Our collaboration with the CPSC to fast-track a voluntary recall in the U.S. addresses safety concerns by ensuring we reach Note7 owners quickly to exchange their devices."
"We are asking owners to act now by powering down their Note7 devices and receive a replacement device or a refund through our exchange program," said Baxter.