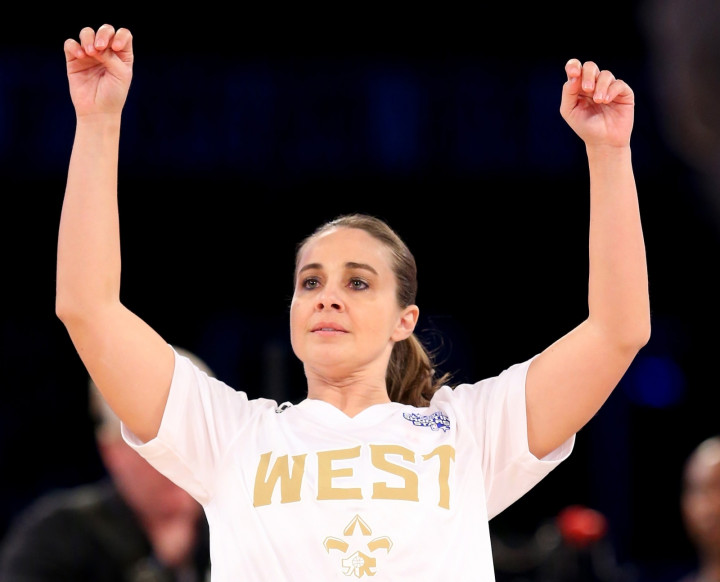 San Antonio Spurs have named Becky Hammon their new assistant coach for the coming season, making her the first full-time female assistant in the history of the NBA.
Six-time WNBA all-star Hammon, 37, will take up her new role with the defending champions at the end of the current women's season having announced her retirement after a playing career that has spanned 16 years.
"I very much look forward to the addition of Becky Hammon to our staff," Spurs head coach Gregg Popovich said in an NBA press release. "Having observed her working with our team this past season, I'm confident her basketball IQ, work ethic and interpersonal skills will be a great benefit to the Spurs."
Hammon was invited to spend time with the Spurs' coaching staff during the team's run to the NBA championship last season.
She joins the franchise after a glittering eight year spell with the San Antonio All-Stars where she leads in all-time assists (1,112), three-pointers (493), and ranks second in franchise history in points (3,442) and games (218).
"I'm just incredibly grateful, obviously, to the Spurs organization and Coach Pop and (Spurs General Manager R.C. Buford)," Hammon said. "The whole staff really just from day one has been so great to me. I'm a little overwhelmed right now, to be perfectly honest."
While Hammon's appointment at a full-time assistant capacity is an NBA first, she is not the first female to join a coaching team. Lisa Boyer served on the bench of the Cleveland Cavaliers while also working as assistant coach for the WNBA's Cleveland Rockers during the 2001/02 season.
The Vancouver Grizzlies also bucked a trend by hiring Trish McGee as an assistant video coordinator in 2011. In 2012 the Los Angeles Clippers followed suit for the same position in the appointment of Natalie Nakase , who was asked by coach Doc Rivers to be his assistant over the summer but will return to her usual role for the start of the regular season.