Arsenal midfielder Santi Cazorla is revelling in his midfield relationship with Jack Wilshere as he reflects on his maiden season at The Emirates Stadium.
Since returning from 16 months out injury, Wilshere has formed a decent relationship with Cazorla at the fulcrum of The Gunners midfield.
Despite suffering defeat to Tottenham Hotspur, which saw Arsenal slip seven points behind their north London rivals, Cazorla has enjoyed his maiden season alongside Wilshere.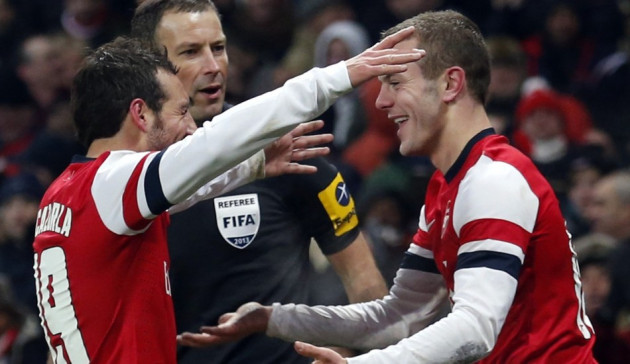 "Jack is a vital player," Cazorla said. "He adds something extra to the team and I'm gradually getting to know his style of play better.
"His way of playing complements my own - in fact, we play in similar positions and so that makes it easier for us to establish a greater understanding every day. He adds that little bit more that we need in many of our games.
"Certainly, he's highly valued in England for being a complete player and I have no doubts that he's going to be even more important here in the future."
With 11 goals and seven assists this season, Cazorla has taken little time to adapt to the rigours of English football and is considered among the finest signings of last summer's transfer window.
Cazorla's arrival comes amid a myriad of questions over manager Arsene Wenger's transfer policy, but the Arsenal middle-man has helped prove the Frenchman's doubters wrong this season.
"I think I've had a positive seven months personally as I have been able to come to a team like Arsenal and play in a great league like the Premier League," Cazorla added.
"It hasn't been difficult adapting to Arsenal's style of play or even to the Premier League. It is a bit different to La Liga in Spain but I've adapted very well and I think Arsenal's style of play has made it a lot easier for me."
"On the pitch, we have definitely had our ups and downs; there have been good times and bad times. I think that the team has lacked a bit of consistency and sometimes we have made mistakes that have cost us dearly. Removing these from our game will help us improve in the future."