Sarah Palin: Mexicans are being seduced into the US with 'gift baskets and soccer balls'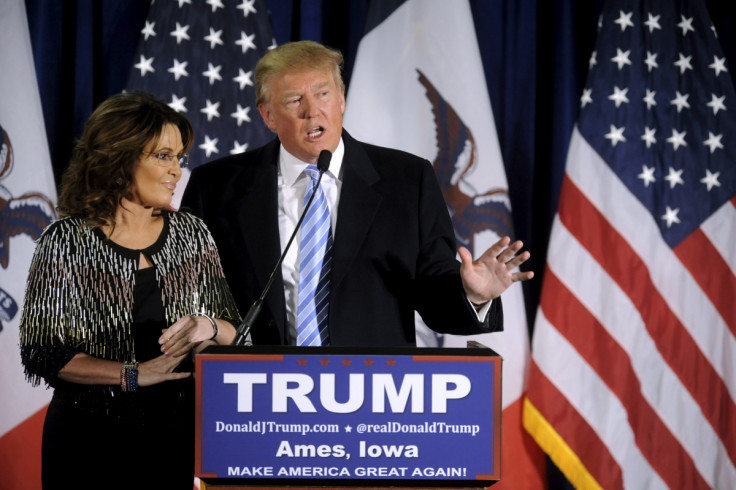 Former Alaskan governor Sarah Palin has told Republican supporters Mexican immigrants are being 'seduced' over the border with gift baskets that include footballs. The former vice presidential candidate took to the stage at the Milwaukee County Republican Party on 1 April.
The speech was made in support of Republican nomination frontrunner Donald Trump, who himself has repeatedly pushed a tough stance on immigration. But audience members looked bemused as Palin launched into a tirade ahead of next week's crucial Wisconsin primary.
GOP candidates Ted Cruz and John Kasich also spoke at the event, but Palin stole the show with her 14-minute rant. Palin began endorsing Trump in January after former Republican candidate and Massachusetts governor Mitt Romney slammed the reality TV star.
She told the crowd: "What the heck are you thinking, candidates? What the heck are you thinking when you're actually asking for more immigrants — even illegal immigrants, welcoming them in." Palin added: "Even inducing and seducing them with gift baskets: 'Come on over the border and here's a gift basket of teddy bears and soccer balls.'"
Palin was said to be referencing an event from two years ago, when American political commentator Glenn Beck brought care packages to immigrant children at the border. Many in the room felt that the speech did not get the desired reaction, with "some eye rolls and phone checking" before limited polite applause at the end.
After Palin finished speaking, she posted a photo of her speech to her Facebook account and thanked Republican supporters. She said: "Thank you, Milwaukee GOP, for letting me crash your Fish Fry at the historic Serb Hall tonight! Your gracious allowance of my sharing pro-Donald J. Trump points is appreciated.
"The comparison of Trump's trade policies with President Reagan placing smart tariffs on specific foreign imports proved the fairness to American workers that Reagan insisted on, and in doing so he saved Wisconsin industry. It'll be God's grace – and UNITY among patriots like those at Serb Hall tonight who love this country as much as we love our own families."
© Copyright IBTimes 2023. All rights reserved.