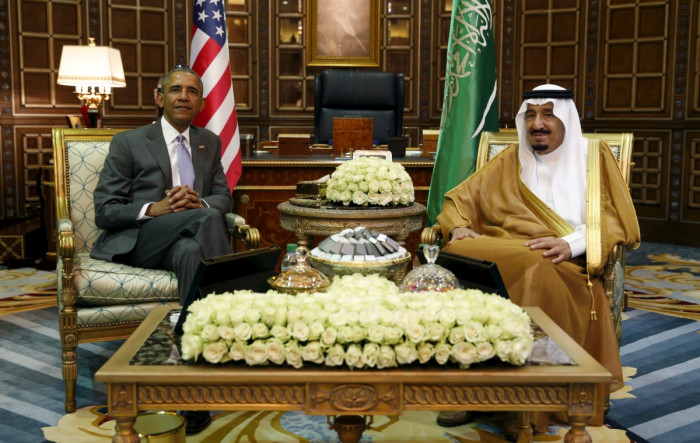 US President Barack Obama had a notably frosty reception when he arrived in Riyadh ahead of a summit on counter terrorism, Iran and the war in Yemen. The President's Air Force One plane was met not by King Salman but by the governor of Riyadh, Prince Faisal bin Bandar Al Saud. The meeting was not screened live on Saudi TV as is the norm — yet earlier the King had been shown meeting other regional heads of state himself.
However in public Obama and Salman posed for photographs at Erga palace and uttered the usual diplomatic niceties. Referring to the Gulf Co-operation Council (GCC) meet taking place amid heavy security on 21 April Obama said: "The American people send their greetings and we are very grateful for your hospitality, not just for this meeting but for hosting the GCC-U.S. summit that's taking place tomorrow."
This is Obama's fourth and probably final visit to the Saudi kingdom before he heads to London, then Germany. He and King Salman posed for photographs before the two had a private two-hour meeting. Speaking through a translator King Salman said: "I and the Saudi people are very pleased that you, Mr President, are visiting us."
Relations between the US and Saudi Arabia are faltering due to a combination of factors, including the falling price of oil, turbulence across the Middle East, Yemen, human rights, the US nuclear deal with Iran and the diplomatic fallout from the September 11 terror attacks in 2001, which have again returned to haunt the two countries. Of the total 19 hijackers, 15 were from Saudi Arabia, which many observers blame for aggressively promoting a strict Wahhabi form of Islam that inspires groups such as Isis and al Qaeda around the world.
Congress is trying to pass a bill that could hold the Saudi kingdom responsible for the 9/11 attacks. There have been reports that if the bill was passed — against the wishes of Barack Obama — the Saudis might sell off its US assets, worth billions. Obama is against the bill fearing it could leave the US itself open to law suits from abroad.