Tata Steel has decided to put its entire UK business up for sale. The company is losing £1 million ($1.4m) a day in its UK operations. After a marathon board meeting in Mumbai, the steel giant said the financial performance of its UK arm had deteriorated sharply in recent months, following years of weak conditions which have already forced it to shed hundreds of jobs. The Indian company blamed high manufacturing costs, domestic market weakness and increased imports into Europe from countries such as China.
The sale would devastate the community of Port Talbot in south Wales, home to Britain's largest steelworks. Around 4,000 people would lose their jobs if the plant were closed. At its peak in the 1960s, Port Talbot was Europe's largest steelworks and the largest single employer in Wales, with a labour force of 18,000. The town has suffered several rounds of job losses in recent years, as Britain's steel industry was hit hard by cheap Chinese imports and depressed prices.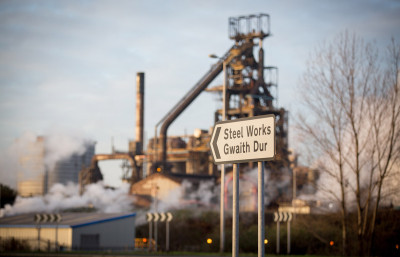 Welsh Labour leader and First Minister Carwyn Jones, Plaid Cymru's Leanne Wood and Welsh Conservative chief Andrew RT Davies have all called for the assembly to be reconvened to debate the crisis. "We know only too well what the loss of an industry like this can mean to our communities, we must not let it happen again. We've seen it once before, we must do all we can to prevent that devastation happening again," Wood warned, referencing the demise of the coal industry in Wales.
The actor Michael Sheen, who grew up in Port Talbot, said the government had to support the town as much as possible. Writing for the Guardian, he said: "The 'determination' that business minister Anna Soubry declared her government has to ensure that Port Talbot continues to make steel needs to now produce urgent action."
The announcement also affects workers at Tata's other UK plants, including Rotherham, Corby and Shotton. Some 19,000 people are employed by Tata across 14 sites in Britain, according to Len McCluskey, leader of the Unite union. "This is the time for the government to say categorically, without hesitation, that these assets will be taken into safe-keeping by the nation, because without them our economy will not flourish," he said. "We are already seeing jobs going in the supply chain because of the uncertainty over Tata's future — our fear is this will snowball if insecurity is allowed to swirl around our steel sector."
Roy Rickhuss, general secretary of the Community union, appealed for a meeting with Prime Minister David Cameron. "Tata Steel withdrawing completely from the UK risks destroying our entire steel industry," he said. "That would be a disaster both for those communities reliant on steel jobs and our entire industrial base."
British authorities have appealed for time after Tata said it couldn't promise to keep plants open while it seeks a buyer. The British government is considering providing financial support for the Port Talbot steelworks and the rest of Tata Steel's UK business in order to allow time for a buyer to be found. This raises the prospect of the UK steel industry returning to state ownership. The British steel industry was nationalised by the post-war Labour government but returned to private hands after the election of Margaret Thatcher in 1979.
When asked on the BBC's Today programme whether the government would be prepared to nationalise Tata's remaining steel plants, UK business minister Anna Soubry said: "We are, and have, and continue to look at, all options and I do mean all options. But what we first want to achieve from Tata is this period of time to allow a proper sale process." She said nationalisation would be difficult because of rules against state aid for business. "We want to establish a good period so we can sell it on," she told the BBC. "That is our priority, to look for a buyer. But we are being realistic about the state of the industry."
The Labour party called on the government to save an industry it described as "the cornerstone of our manufacturing sector". Labour leader Jeremy Corbyn suggested a part-nationalisation of the steel industry if necessary. "Ministers must act now to protect the steel industry and the core of manufacturing in Britain," he said. "It is vital that the government intervenes to maintain steel production in Port Talbot, both for the workforce and the wider economy, if necessary by taking a public stake in the industry."
Most steel companies, including top producer ArcelorMittal, have been hit by plunging prices due to overcapacity in China, the world's biggest market for the alloy, making Tata's task of finding a buyer all the more difficult.