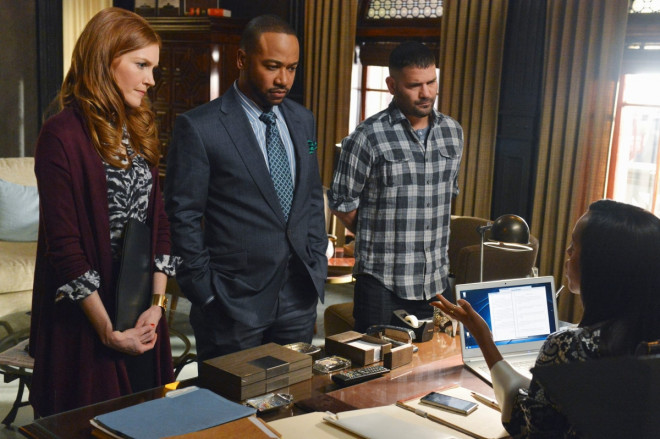 The big election is fast approaching with the explosive finale of the political thriller Scandal Season 3 and the drama quotient is getting higher with each episode.
The promo of the episode 16, titled 'The Fluffer' suggests that Olivia is having a tough battle ahead of the Presidential election while Jake tries every trick to bring her back to the White House.
The preview also shows Pope & Associates continuing their B613 investigation and Abby can be seen playing a proxy to Olivia in the White House.
Abby calls a distressed Olivia to join her duties in the White House because 'things are going to get real ugly' in the future.
Shonda Rhime's political thriller Scandal continues to deliver nail-biting moments and fans really want to know what will happen on the big day of the presidential election.
Scandal pre-finale 'Flesh and Blood' is slated to air on 10 April and the synopsis says a security breach calls for an all-hands-on-deck situation at OPA, reports entertainment website ksitetv.com.
The website also reports that Fitz may decide to go against Olivia's advice for his re-election campaign and Maya and Adan (who were seen working seriously in some kind of abandoned factory) are plotting some big move that will shock the viewers.
The finale promises to answer all queries from fans but the spoiler pictures somehow project Maya as the hacker and fans won't be surprised if she kills Adan in the finale or pre-finale as we have seen her as a reckless killer, having shot fake' Damitri in cold blood.
Click here to see the spoiler photos of the pre-finale episode 'Flesh and Blood'.
The episode 17 'Flesh and Blood' is written by Severiano Canales and Miguel Nolla and directed by Debbie Allen.
Stay tuned for Scandal Season 3 episode 17 which will air at 10:00 pm on Thursday 10 April on the ABC Television Network.
Watch the preview of Episode 16 'The Fluffer'.