Since taking on the role of the White House Communications Director, Anthony Scaramucci has been tackling interviews on a daily basis to try and bring some calm back to Washington after weeks of chaos.
The ongoing Russia investigations, Donald Trump Jr's email release, the future of Obamacare, the ongoing row between Jeff Sessions and President Trump, and the recent ban on transgender members of the military has created a perfect storm over Washington - something which Scaramucci is hoping to dispel.
Speaking on Wednesday 27 July to BBC's Newsnight, Scaramucci was pressed by Emily Maitlis on a range of issues including the current debate over healthcare reforms.
The communications boss compared the struggle to repeal and replace Obamacare with that of the abolition of slavery.
Scaramucci said: "If you've read Team of Rivals, it took Lincoln three or four times to get what he wanted from the Senate and the House of Representatives, which was the full abolition of slavery – that was a much tougher thing to get done than what we're working on right now."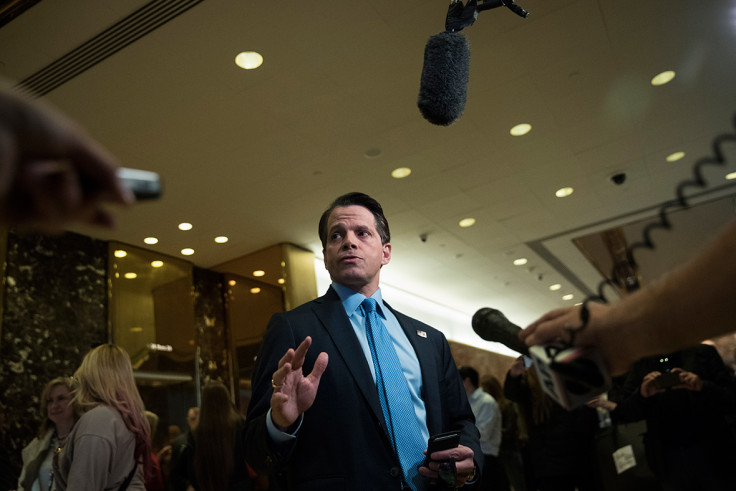 He went onto accuse Maitlis of being "elitist" when the pair discussed the background of Donald Trump.
Maitlis asked "which part of Trump wasn't elitist" to which he said that there was "so many things" including the fact that Trump eats cheeseburgers and pizza.
She said that "everyone eats cheeseburgers and pizza what are you talking about?"
Scaramucci then accused Maitlis of "coming across a little bit elitist."
At the end of the interview, Scaramucci apologised, saying: "It was great to meet you, sorry I called you an elitist."
Turning to the camera, he added: "She's probably not an elitist, but she was hitting me, she was hitting me very hard, I didn't mean to call you that, I apologise."
During the interview, he admitted that the culture of backstabbing in DC frustrated him and he preferred to frontstab instead. "One of the things I cannot stand about this town is the backstabbing that goes on here. Where I grew up, in the neighbourhood I'm from, we're front-stabbers. We like to tell you exactly where we're from and what we're doing."