A man has died after his mobility scooter fell into a swollen river.
Thames Valley Police were called to Osney Lock in Oxford, at 6.30pm on Saturday (4 January) after receiving a report that a man had been seen falling into the River Thames after driving his scooter along a flooded pathway.
The 47-year-old was pronounced dead at the scene after being recovered from the lock.
Two others have died in the latest wave of storms battering the UK, including a 27-year-old man from Surrey, whose body was found on Porthleven Sands beach in Cornwall, after he was swept out to sea on New Year's Eve.
A woman died after being rescued from the sea in Croyde Bay, north Devon.
Meanwhile, searches have been resumed for a third day in south Devon for missing 18-year-old university student Harry Martin, who was last seen leaving his home in Newton Ferrers, near Plymouth, on Thursday to take photographs of the stormy weather.
The Environment Agency has been warning that the south and west coasts of England and the Severn estuary are at risk of severe coastal flooding into next week.
Forecasters have warned that gusts of up to 70mph are set to hit western Britain creating a further risk of flooding.
The Met Office has issued a yellow warning amidts fears that high winds along the coast of Scotland, Wales and southwest England could result in waves of up to 10 metres high.
There are currently 69 flood warnings and 214 flood alerts in place in England and Wales. Ten flood warnings and 16 flood alerts are in place in Scotland.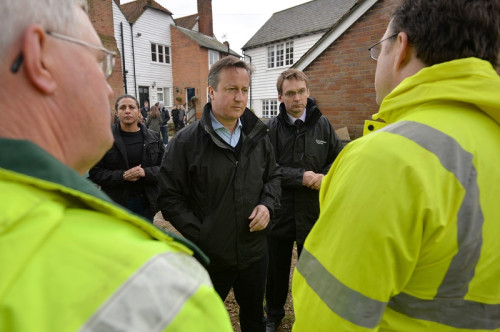 The government has come under fire for planning to cut the number of jobs in the Environment Agency, which is responsible for flood protection.
British Prime minister David Cameron told the BBC's Andrew Marr Show on Sunday: "You are going to see record levels of spending on flood defences. We've guaranteed that, right out into 2020, so they can really plan right out into the future.
"Local authorities have had to make difficult decisions. The Environment Agency does have to make sure it controls its budgets carefully but we are making sure they invest in the front line."
"Huge sympathy to anyone who has had their house flooded. Anyone who has had a house or an office flooded knows it is absolutely dreadful.
"There are always lessons to learn. I think we're doing a lot more things better."
The UK has suffered widespread devastation and disruption to roads and public transport, following the worst storms since 1969.