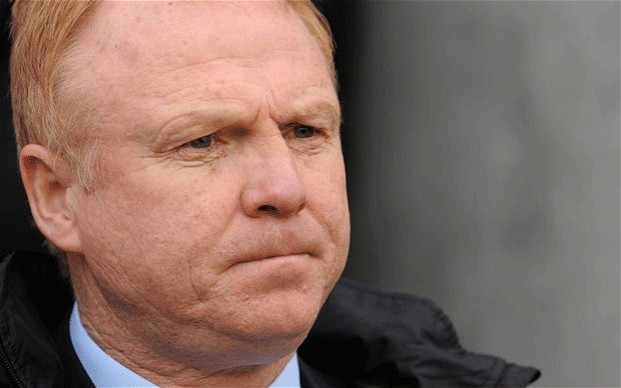 Alex McLeish has refused to rule himself out of the running for the vacant Scotland managers job after Craig Levein was sacked earlier this week.
The 53-year-old was himself let go by Aston Villa in the summer and has been without a job after winning just nine games in the Premier League last season.
However, he did previously impress in the role as Scotland manager and was unfortunate to be drawn in a group with France and Italy while trying to qualify for Euro 2008.
McLeish had played down suggestions that he would return to the role after stating that he wanted to return to club football where he could work with the players on a daily basis.
While this still remains his objective, he has suggested that he could have a change of heart and he feels he could be in the running because of his previous experience.
Asked whether he would be interested in succeeding Levein, McLeish said: "Well I haven't been asked yet.
"I loved the Scotland job when I had it, we took France and Italy to the wire and with a bit of luck we might have done it.
" The job was a great adventure and I felt that at the time when the competition had finished that I wasn't sure if I could wait eight months for a European Championship game or a World Cup experience.
"I really wanted to get back to the day-to-day challenge and there was an opportunity that came up to manage in the Barclays Premier League which was always an ambition. It has been a little bit of a rollercoaster and I have had to put out fires in the past few years but it has made me a better manager there is no doubt about that.
"Before I took the job (Birmingham City) I said to the SFA that I really wanted to go back to club football and have received one of the greatest opportunities of all to manage in the Barclays Premier League. They couldn't knock me back in terms of my ambition even though it is one of the greatest feelings of them all to manage your country.
"If I did take the job now it would probably go against what I said then which is that I want to work in day-to-day football. But who knows. I certainly feel that the experiences that I have had, the quality that I have shown and successful times that I have had in England should stand me in good stead."
Scotland are currently bottom of their qualifying group having picked up just two points from their first four games and are extremely unlikely to be able to qualify for the World Cup in 2014.
For more insight from Alex McLeish and other leading managers plus exclusive Premier League highlights go to www.yahoo.co.uk/sport