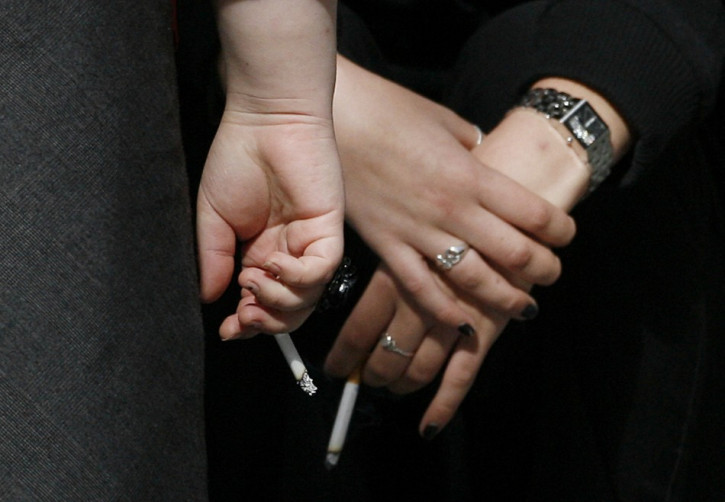 The target date to make Scotland's prisons smoke free is expected to be announced at the launch of a major report into prison workers' exposure to second-hand smoke.
The Scottish Prison Service's report is expected to show high levels of second-hand smoke in prisons.
A survey by the SPS in 2015 found that 72% of those in custody smoked - more than three times the rate of the general population. The research also showed an interesting link between the number of times someone is remanded in custody and the likelihood of them becoming a smoker.
The majority of Scotland's enclosed public places became smoke-free in March 2006, but the Smoking, Health and Social Care Act was not applied to prisons.
Scottish Prison Rules were amended at that time to restrict smoking in prison facilities to certain areas, namely in prison cells and at outdoor recreation areas.
The staff, visitors and contractors are not allowed to smoke anywhere on SPS property.
The move towards smoke-free prisons is in line with the Scottish government's aim of creating a "tobacco-free generation" by 2034.
SPS, the Scottish government and the National Health Service (NHS) have said that they will work in partnership to help those in custody stop smoking.
According to ASH Scotland, a non-profit organization, just like the Scottish Government, the UK Government is currently working towards implementing a smoke-free policy for all prisons in England, and in Wales in partnership with the Welsh Government.
Paul Black, a prisoner at HMP Wymott, is campaigning for a smoking ban across the whole prison estate in England.
He brought evidence from a Ministry of Justice medical report stating that the air quality behind bars was harmful to health. The ban was also supported by the Prison Officers' Association (POA) in order to protect its members from inhaling second-hand smoke.
Black lost his claim at the court of appeal in March 2016. The case is currently due to be heard by the UK Supreme Court in October.
Last year, a pilot project was launched by the Prison Service to prohibit smoking in the prisons in Wales and the south-west of England.
The Ministry of Justice has repeatedly insisted that the ban's eventual goal is to outlaw smoking in all prisons in England in the near future.