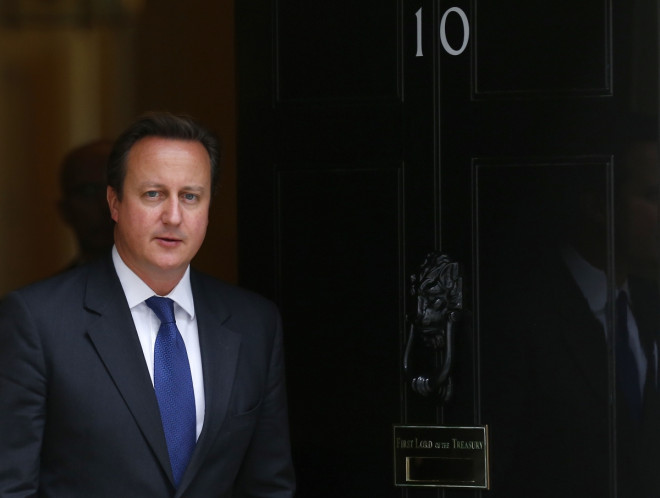 Prime Minister David Cameron would probably have to resign if Scotland voted to split from the UK in its impending referendum and a bitter leadership contest that followed would ruin Tory chances of winning the next general election, according to a report.
Investment bank Nomura also said in its report that Labour has "much to lose" in Scottish independence because most of the Westminster MPs north of the English border belong to the party – and may even face a generation out of power as a result of a UK break-up.
Scotland will vote in September on whether or not to stay with the UK. The Scottish National Party (SNP), which rules in Holyrood, is pressing for independence because it says Scotland should have the right to run its own affairs. Devolution, they say, is not enough.
Though trailing in the polls, the SNP has narrowed the divide between those who want to stay with the UK and those who want to leave. As the months go on, the outcome of the referendum looks increasingly uncertain.
Nomura's research said:
Although all three of the main Westminster parties are strongly backing the Better Together campaign, in a likely post-referendum 'blame game' we think that the ruling Conservative Party would fare worst.

It is possible, in our view, that Prime Minister (and Conservative Party leader) David Cameron could either feel obliged, or be forced by popular pressure, to resign, throwing up the prospect of a potentially divisive leadership contest just months before the 7 May, 2015, general election.

Opinion polls consistently give Mr Cameron's leadership higher ratings than those enjoyed by the Labour Party leader, Ed Miliband.

So, in addition to the possibility of its vote suffering because of a perception that it presided over a break-up of the Union, the Conservative Party could further damage its prospects in the 2015 election depending on who is leading it at that time.
Cameron has previously said that he would not quit if Scotland voted yes in the referendum. But political pressure may give him no choice.
Of Labour, Nomura highlighted that they have 41 of the 59 UK parliamentary seats available in Scotland. Though the bank expects the 2015 general election to go ahead as planned in Scotland even if they vote for independence, it thinks a split would eventually hit the Labour party.
Nomura concluded:
The Labour Party therefore has much to lose in terms of Westminster elect-ability in the event of Scottish independence.

Indeed, some commentators believe that Labour could find itself excluded from power in Westminster for up to a generation (which we do not rule out, while cautiously recalling a famous quote from a Labour prime minister in the 1960s, Harold Wilson, ie: 'A week is a long time in politics').