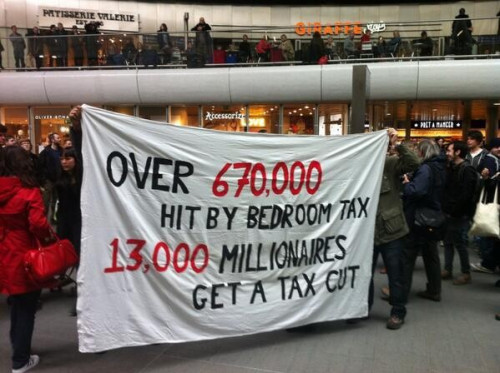 The government has rejected the recommendations of a United Nations report that called for bedroom tax to be scrapped as "misleading Marxist diatribe".
The report, drawn up by the UN's special investigator on housing Raquel Rolnik, recommended that Whitehall drops the controversial bedroom tax. she made the recommendation after seeing conditions for herself last August and September
The report described how people such as the disabled or those on low incomes were in "tremendous despair" as a result of welfare reforms and housing crisis.
On visits to Belfast, Glasgow, Manchester and London, Rolnik found that the bedroom tax forced some recipients to face "hard choices between food, heating or paying the rent".
The report added: "While in principle the [bedroom tax] policy does not force people to move, the reality of peoples' experience, many of whom are working people with no income to spare, left no doubt in the special rapporteur's mind that many have no other option, which has left them in tremendous despair."
Tory ministers previously called the report on the bedroom tax – the coalition policy officially known as the spare room subsidy – as "disgraceful" and demanded an apology from Rolnik.
Conservative party chairman Grant Shapps denigrated Rolnik as merely a "woman from Brazil" and wrote a letter of complaint to the UN secretary-general, Ban Ki-moon.
Following the publication of the report, the government has again dismissed the findings.
Housing minister Kris Hopkins said: "This partisan report is completely discredited, and it is disappointing that the United Nations has allowed itself to be associated with a misleading Marxist diatribe."
A spokesperson for the Department of Work and Pensions added: "This report is based on anecdotal evidence and the conclusion was clearly written before any research was actually completed".
The government also attempted to dismiss suggestions that Rolnik was formally invited to the UK as part of her investigation.
She wrote in the introduction to her report: "At the invitation of the central government, the special rapporteur on adequate housing as a component of the right to an adequate standard of living, and on the right to non-discrimination in this context, undertook an official visit to the United Kingdom of Great Britain and Northern Ireland from 29 August to 11 September 2013."