The decision to scrap the seven-year pay cap for NHS workers has been dismissed as a "con" unless Jeremy Hunt can confirm more funds will be available to cover the costs.
The health secretary announced the maximum 1% annual pay rises on NHS workers which has been in place since 2010 will end next year having been given "leeway" to do so by chancellor Philip Hammond.
However, Hunt was unable to clarify where the money would come from to cover the potential rise in salary for the 1.4 million NHS workers.
Speaking in the House of Commons, Hunt said: "That is something I can't answer right now because the latitude that the chancellor has given me in terms of negotiating future pay rises is partly linked to productivity improvements that we will negotiate at the same time."
Unions and NHS workers are now concerned that the pay rise will come as a result in funding cuts ahead of the upcoming Autumn Budget.
Kevin Brandstatter, national officer of the GMB union, said: "If there is no new money then it's a con trick to claim that the pay cap has ended.
"Without new funding 'productivity improvements' just looks like code for cuts to jobs and services. Staff are struggling to cope as it is. The NHS is in a desperate state as demand spirals and jobs losses could push it over the edge.
"If Jeremy Hunt is serious about increasing productivity he should urgently talk to the workforce about the investment that's urgently needed in facilities and training - otherwise patients' could be put at risk."
Saffron Cordery, the director of policy and strategy at NHS Providers, said while they welcome the health secretary's announcement, there is concern about how scrapping the pay cap will be imposed at a time when staff are already "asked to do more for less".
She added: "We need a clear plan for the end to pay restraint. Pay accounts for up to 70% of costs for NHS trusts. At a time when NHS finances are already overstretched, it is vital that any additional pay awards are fully funded, however that is done."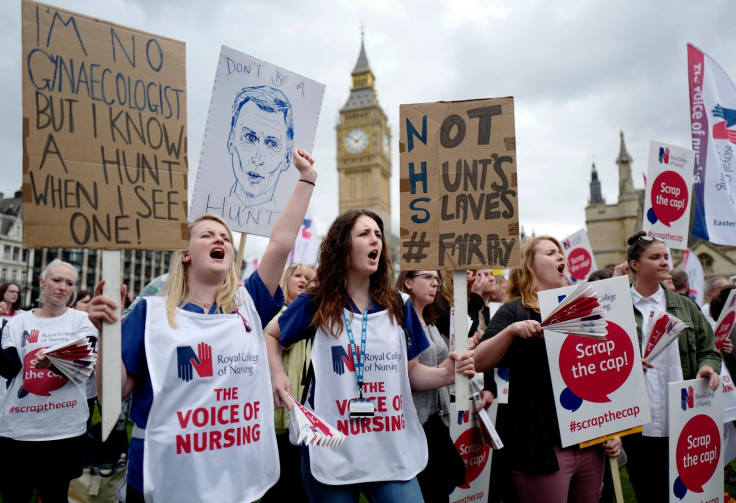 Janet Davies, general secretary and CEO of the Royal College of Nurses (RCN), also insists the pay offer from Hunt must not come below inflation.
She said: "Jeremy Hunt has put beyond all doubt that the pay cap is scrapped after a summer-long campaign by the RCN.
"Our members in every corner of the UK fought hard and can be proud of this achievement. The next pay offer must not come in below inflation and ministers cannot ask the NHS to make other cuts to pay for it – services must be given extra funding to cover the cost."
The government previously announced it is scrapping the pay cap for prison officers and policeman as part of plans to remove it entirely for all public sector workers.
The move would see prison officers receiving an average pay increase of 1.7% in 2017/18, while police would receive a 1% hike to their basic pay, plus a one-off 1% bonus in 2017/2018.
The offer was rejected as "pathetic" by unions for being way short of the current rate of inflation.